Zukunftsforum Meets Webster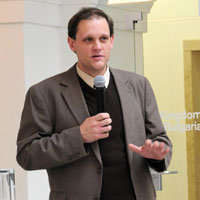 Webster Vienna welcomed members of Zukunftsforum -- leading individuals from the media, business, politics and media agencies -- to campus Oct. 1.
Webster is the new "Bildungs-Partner" for Zukunftsforum and is represented by Bradley Wiggins, department head of Media Communication at Webster Vienna.
Zukunftsforum is responsible for awarding the "Medien-Zukunftspreis," which is a long-term initiative that aims to make an active contribution to create an innovative media culture in Austria.
Julian Schuster, Webster's provost, senior vice president and chief operating officer, delivered a welcome speech to those in attendance.
Webster student Sofija Lozovic presented how media students and international relations students at Webster collaborate to create real-world experiences at their Webster Model United Nations (WebMUN) conferences.
Learn more at Webster Vienna, and see more photos from the event in this Webster Vienna Facebook album.