Volleyball Earns 12th Consecutive USMC/AVCA Team Academic Award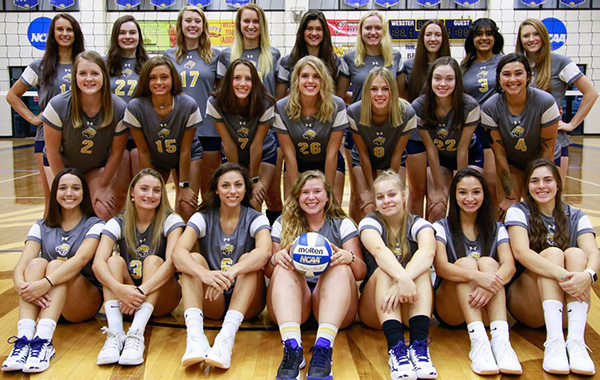 For the 12th consecutive year, Webster University has been recognized by the United States Marine Corps (USMC) and the American Volleyball Coaches Association (AVCA) with a USMC/AVCA Team Academic Award for the 2019-20 school year.
The Team Academic Award, initiated in 1992 by the AVCA, recognizes team who have their dedication to the sports of volleyball with excellence in the classroom. Teams must maintain at least a 3.30 cumulative team GPA on a 4.0 scale for the school year or a 4.10 cumulative team GPA on a 5.0 scale.

During the recently completed 2019-20 school year, Webster's volleyball team compiled a 3.51 team grade point average.

"I'm very proud of the tradition of Gorlok volleyball. This is the 12th consecutive time the team has earned the AVCA award," said Merry Graf, Webster head volleyball coach and assistant athletic director. "The players work hard on the court, in the classroom and continue to be active in our community. This is an outstanding group of young women and I feel fortunate to work with them."
Webster one of four St. Louis Intercollegiate Athletic Conference schools to be recognized and one of a record 231 NCAA Division III women's teams to earn a USMC/AVCA Team Academic Award. The Gorloks had nine players earn SLIAC 2019 Fall All-Academic Team honors for having cumulative GPAs over 3.50. The other SLIAC schools named USMC/AVCA Team Academic Award winners were Blackburn College. Greenville University and Principia College.