Global WAN Keeps IT Member Connected from San Antonio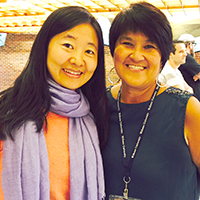 Two years ago, Information Technology was on the brink of losing a high-value staff member, were it not for Webster's Global Wide Area Network (WAN) and some creative thinking.
Since 2007, Jian Gong, web services analyst, had been an integral part of a team working with her colleagues and supervisor, Enterprise Information Systems director Margie Muthukumaru, to assist all University campuses worldwide on reporting and issue resolution for such matters as enrollment, registration, reporting, third-party software integrations and more.
But in 2013 Gong's husband was offered a new employment opportunity, relocating her and her family to San Antonio. It all would have forced her resignation, were it not for Muthukumaru and Ken Freeman, chief information officer, thinking of a solution. Appreciating Gong's work and valuing her accumulated knowledge as a Webster staff member, they found a way to work around her relocation.
Their solution took advantage of a major IT investment that has been strengthening the connections among Webster's campuses worldwide.
Currently, and for the past two years, Gong still reports to work in Webster Groves — by reporting to the San Antonio Metro campus. Through the new Global WAN, WebEx and the nature of her computer-based position, her relocation has been virtually seamless.
"Jian has become a very critical member of the team," Muthukumaru said. "She contributes significantly to the team's productivity, especially in the academics area."
"When you identify great talent among your ranks, you are motivated to do what you can to keep them," said Freeman, also acknowledging the fiercely competitive IT employment community for capturing and retaining great staff. " Jian understands and appreciates the world of Webster and a suitable solution was relatively simple to achieve."
Gong says she appreciates the opportunity to be able to continue her work at a job she loves.
"It has been a tremendous benefit for me, being able to move with my family, but still work with my teammates on the main campus," she said. "Who wouldn't want to contribute more in such a caring work place?"