Webster Student Earns Prestigious Arts Fellowship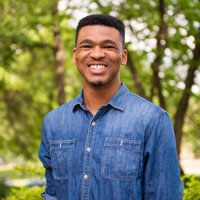 ST. LOUIS - Imagine receiving an opportunity of a lifetime. - the type of opportunity that makes your dreams a reality. And imagine it happens right before your college graduation. This is the experience of a Webster University senior as a Katherine Dunham Fellow of the Arts and Education Council (A&E).
Quinton Ward was honored as the 8th recipient of the Katherine Dunham Fellowship program in January. This distinguished fellowship is designed to equip young African-Americans with the tools and skills to succeed in the arts administration field, where they are historically underrepresented. Sponsored by Sara and Jack Burke, this 16-week long program provides an experience of mentorship, personal and professional development and enrichment opportunities. Ward says his personality and confidence helped him to obtain this fellowship, but he couldn't have done it without the support of the Webster University community.
"Webster is the reason I got this opportunity," Ward said.
The Support of Webster University
Ward, a senior graphic design major, found a sense of family at Webster University. He established and fostered genuine relationships and with faculty, staff, and students that made his college experience worthwhile.
"Webster helped me to be a global citizen," he said. I feel like I can be a part of any community and thrive and be mindful of where I'm at."
Ward's connections at the university have been beneficial to his journey as an artist. In the summer of 2017, he was selected to showcase his artwork in a solo exhibition in the Arcade building at the Gateway campus in downtown St. Louis. Ward also built close relationships within the Art Department, especially with his graphic design professor Noriko Yuasa, - who served as a mentor to him. In fact, Yuasa played a major role in Ward attending the University. Ward got a glimpse of Webster's support when he first visited campus to attend the Art Department's senior portfolio presentation, where he met Yuasa for the first time.
"When I visited the senior portfolio presentation she [Yuasa] immediately greeted me with open arms and made me feel welcomed. She really sold me on coming to Webster." Ward explained. "Since that day, it became a relationship of 'I'm here for you.'"
He also maintained a good rapport with those at his previous work-study position with the Career Planning Development Center, not knowing this relationship would be significant. The Career Planning Development Center recognized Ward's work ethic, and when presented with information about the Katherine Dunham Fellowship, they sent the application to his professor to recommend Ward as a strong candidate.
"Webster University has given me many resources and skills," Ward said. "The university has taught me that networking is being who you are, listening and understanding others, and not always asking for things."
Life As A Katherine Dunham Fellow
Ward described his fellowship as an overall amazing experience. From January to early May of 2018, he has made his mark in the St. Louis arts industry by representing A&E. Ward was given a warm welcome from the council and earned the nickname "KD 8," being the 8th fellow of the program.
Ward was immediately immersed in hands-on experience at his fellowship with the first task of facilitating the St. Louis Arts Awards, a gala honoring trailblazers in the St. Louis community. During his fellowship, he honed a wide-range of skills including marketing, fundraising, program and grants delivery, database management, building management, and event planning. Every Monday and Wednesday he learned something new and gained a lot of valuable knowledge. One of the highlights of his fellowship was visiting the various sites A&E sponsors. Ward's favorite site was Normandy's 7th and 8th grade Center - rehearsal of the play "A Raisin in the Sun." Ward said that this moment helped him to realize the significance of art education in schools and in the community.
"The arts are important to a vibrant community. It brings the culture," Ward explained.
The things that Ward appreciated the most about the fellowship was having people to mentor him and believe in him. The council also helped promote Quinton Ward to the community. In the past few months, Ward had several guest appearances on local media such as Fox 2 and "St. Louis Public Radio's St. Louis on the Air with Don Marsh." A&E has connected him in many different ways that benefit his career path.
"My dreams have already expanded from the Katherine Dunham Fellowship."
He says he's grateful for the love and support he received from the Katherine Dunham family and how they took him under their wing.
"From the moment we met Quinton last fall, it was clear he understood the important role the Arts and Education Council's Katherine Dunham Fellowship serves in developing a pipeline of African-American arts leaders," said Cynthia A. Prost, A&E president and CEO. "Quinton has been a delight to have on the team. His sparkling personality and the key skills and experience he has gained in arts administration during his time at A&E will serve him well as he works toward his vision of becoming one of the next great arts leaders."
Ward's Post Graduation Goals
The future is looking bright for Ward. After graduation, he plans to incorporate the skills and experiences he attained from Webster University and A&E and become holistic in the field of art. Ward doesn't limit himself to be just an artist, he has ambitions to be a designer, community engager, and eventually a leader of a renowned art organization.
He also wants to continue creating artwork that is a representation of his personal experiences, social issues, and current events. Through his sculptures, installations, and graphic designs, he expresses deeper messages with emotional value.
"With my art, I want to speak for people who don't have a voice and have conversations about things that aren't being talked about."
Ultimately, he aspires to be an inspiration to other African-Americans so they can see faces like themselves succeeding in the arts administration field.
"It's so important to give back when I can," Ward said. "I want to share and give my knowledge unconditionally to people who didn't have the same opportunities to me."
The Arts and Education Council has opened applications for the Katherine Dunham Fellowship program for the 2018 fall semester.
Applicants to the Katherine Dunham Fellowship must meet the following qualifications:
Must be African-American undergraduate juniors or seniors, recent graduates (1-3 years), or graduate level individuals.
May come from any academic discipline, not just the arts (ex: liberal arts, business, social work, marketing and communications, etc.).
Must have A genuine interest to lead and work for an arts organization or cultural institution (dance organizations, museums, theaters, symphonies, performing arts centers, etc.).
Must be able to work at least two full days per week (approximately 16 hours) between September and December during normal A&E business hours, Monday-Friday, 8:30 a.m.- 5:00 p.m. A&E is located in its Centene Center for the Arts, 3547 Olive Street, St. Louis, MO 63103 in the Grand Center Arts District.
Be able to spend approximately 2-5 hours per week on extracurricular activities outside of work (may include attending complimentary arts and culture events, social networking events, A&E special events, Katherine Dunham related events/classes, etc.).
Applications are due May 31, 2018.
For more information about the Katherine Dunham Fellowship and to apply, visit KeepArtHappening.org/KatherineDunham.