BioSTL, MilliporeSigma Welcome WATTS Scholars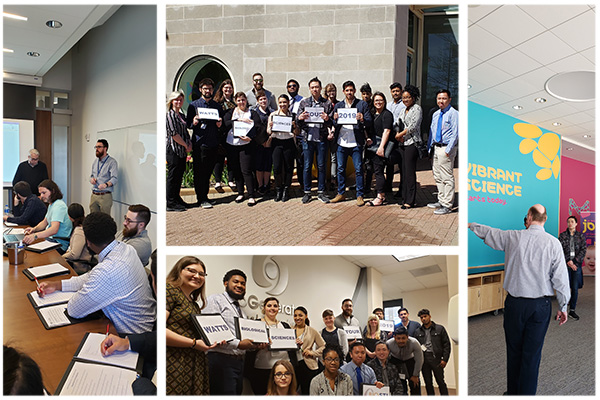 On Friday, April 12, Winning Approaches for Talented Transfers in STEM (WATTS) Scholarship recipients and additional science majors participated in a Career Development Employer Tour coordinated by the Career Planning & Development Center and Biological Sciences.
Accompanied by Biological Sciences faculty members Stephanie Schroeder, Ryan Groeneman, and Mary Preuss in Webster's College of Arts & Sciences; John Holste, assistant director, Career Development and Trezette Dixon, assistant director, Employer Relations, both in Webster's Career Planning & Development Center, students visited BioSTL and MilliporeSigma.
Scientist from several organizations in BioSTL shared their insight on careers in science and the thriving science start-up community in St. Louis. Madeline Lackey, Webster Alum and Concierge/Reception Specialist, provided information on the newly opened St. Louis Cortex Innovation Community (CIC). Organizations included Genoscopy, BioGenerator, VaxNewMo and WUGEN .
At MilliporeSigma, students received an in-depth look into the many divisions and innovative accomplishments since the merger of Sigma Aldrich and a tour of the St. Louis headquarters including labs and creative workspace. Students also got a chance to talk to Irfan Hodzic, Webster Alum and Associate Scientist Process Solutions|Upstream R&D at MilliporeSigma, who shared his transition from student to scientist and advice on participating in internships prior to graduation.
Trezette Dixon, assistant director, Employer Relations, explained the importance of these events, saying, "The employer tours are a valuable way to connect the students' classroom learning to their future career path. Students have the opportunity to learn, network and explore outside the classroom through the strong partnerships we are creating with local employers and alumni."
This event, co-hosted by the Career Planning & Development Center and the Department of Biological Sciences in the College of Arts & Sciences, is an example of a meaningful, cross-campus collaboration that promotes student learning and success.
The WATTS scholarship program for transfer students in biology and chemistry is funded by the National Science Foundation S-STEM grant program.