Watts Named Finalist for Intercollegiate Tennis Association Ann Lebedeff Leadership Award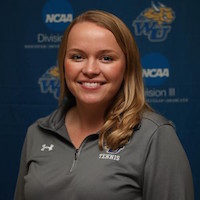 Webster University senior Madison Watts has been selected as one of four national finalists for the 2019 Intercollegiate Tennis Association (ITA) Ann Lebedeff Leadership Award, the organization announced on Monday.
The ITA Ann Lebedeff Leadership Award, which is endowed by Billie Jean King, was created to honor a recent college graduate who played college tennis and demonstrated excellence on and off the court, leadership on his or her team as well as on his or her college campus and in his or her community. The recipient of the award will have demonstrated grit (i.e. passion and perseverance towards long-term goals), a commitment to social justice and equality and will have pushed others to be leaders in addition to demonstrating his or her own leadership
Watts, a management-marketing major with a minor in public relations at Webster, was selected as one of four finalists along with Pomona-Pitzer's Caroline Casper, Delaware's Sarah Hall and Duquesne's Andrew Akins. Casper and Watts are both NCAA Division III student-athletes, while Akins and Hall are NCAA Division I student-athletes.
The finalist's materials (i.e., personal statement, resume, letters from their coach, teammate and institution's President) will be submitted to the ITA Ann Lebedeff Leadership Award Selection Panel. The ITA Ann Lebedeff Leadership Award winner will be honored by the ITA at a special awards ceremony in August during the ITA Arthur Ashe Jr. Awards Weekend in New York, in addition to receiving a specially-engraved gift and post-graduate scholarship. The ITA will also donate $1,000 to the tennis program of the institution from which the award winner graduated.
"Madison has held many leadership positions and has been honored for many accomplishments and to be selected as a finalist for this outstanding honor by the ITA is just icing on the cake," Webster head women's tennis coach Martha Davis-Goldstein said. "Very rarely does a student-athlete leave a strong legacy to pass down through the ranks of our program and Madison's dedication to team, morals, academics, and equality proves her a strong leader and positive influence of culture. Her impact and ideas help to shape our environment that will be sure to encourage many more young women to stand up, persevere through adversity and lead towards the path of excellence."
While studying at Webster's Geneva campus, Watts joined the UN-registered NGO Webster Humanitarian Association and worked with local refugees to help acclimate life in Switzerland while promoting human rights and social justice in the Geneva community. Watts was also the founder and captain of the chapter organization "Love Your Melon," which raises funds and awareness for pediatric cancer and is a member of the Children's Miracle Network of St. Louis Hospitals young professional's board.
For more information about Watts and the Intercollegiate Tennis Association, visit the Webster Athletics webpage.