Webster at the 30th Annual St. Louis Earth Day Festival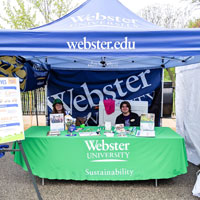 Kelsey Wingo, sustainability planner, and Jacob Glasgow, student associate, greeted attendees of the 30th annual St. Louis Earth Day festival on behalf of Webster. The booth met with over 100 people through the course of the weekend and handed out reusable bags, pencils made of recycled material and upcycled notebooks, as well as spoke with them about campus initiatives, academic opportunities.
They also spoke about ways the community can get involved at Webster, including the summer Lunch & Learn Sustainability Speaker Series where leaders from nonprofits related to sustainability will give lectures about varying topics from urban agriculture to civic engagement.
The series begins Wednesday, May 22 at noon in the Emerson Library Conference Room. For more information about campus sustainability, contact Kelsey Wingo at kelseywingo07@webster.edu