Webster at Home: DADAH virtual tours; English students present at conference via video; Alpaca visits ART/PSYCH class
Show us how you're working or teaching remotely during the coronavirus pandemic using the hashtag #WebsterAtHome with your social media posts.
DADAH Virtual Studio Tours April 24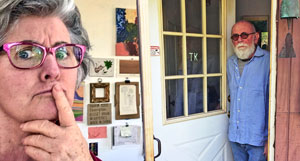 From 12-1:30 p.m. on Friday, April 24, Professor Carol Hodson will take viewers on a virtual tour of some of Webster's Department of Art, Design and Art History (DADAH) professors' creative spaces via WebEx. Join Hodson as she visits Jeri Au, Ryan Gregg, Tate Foley, Marisa Adesman, Brian Zimmerman and Tom Lang.
Click here anytime during the meeting to join in. Be sure to have your chat open and microphone turned off.
English Majors Present at Conference
English majors Emily Brooks and Cheyenne Davis were able to record their planned presentations for the Undergraduate Literature Conference that was supposed to take last weekend at Missouri State University. You can listen to the speeches by clicking below:
Intro to Expressive Arts Therapy Class Gets Fuzzy Guest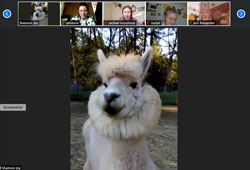 Napoleon the Alpaca, from Mtn Peaks Therapy Llamas & Alpacas, joined Carol Hodson's Intro to Expressive Arts Therapy class the other night as a way to explore other forms of therapeutic endeavors.
Napoleon, while the first Vicugna pacos to join the class, is not the first non-human: Earlier this month, a blue-tongued skink also made a guest appearance.