Webster At Home: Virtual Department of Dance concert; Conservatory Alumni LokDown Cabaret this weekend
Show us how you're working or teaching remotely during the coronavirus pandemic using the hashtag #WebsterAtHome with your social media posts.
Dance Virtual Creation Concert May 22, 7 p.m.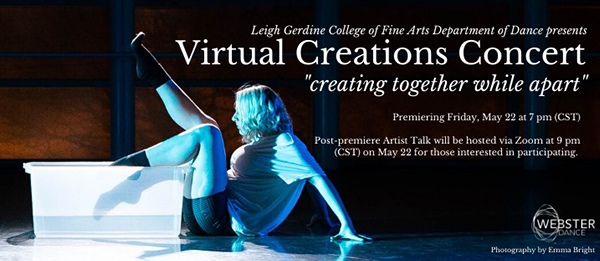 The Leigh Gerdine College of Fine Arts Department of Dance will be hosting their Creation Concert virtual this year. The concert will be held on May 22, at 7 p.m. All dance performances will be posted on the Creation Concert website and also to Creation Concert Facebook page in real time.
The Creations Concert is entirely student-created and has been used for years as a platform for the growing artists of Webster University to showcase work they are creating and ideas they are exploring to audiences. Creations is not only a concert that showcases entirely student-created and student-performed work but is also completely student-produced and run.
Alumni LokDown Cabaret Performance May 23, 7:30 p.m.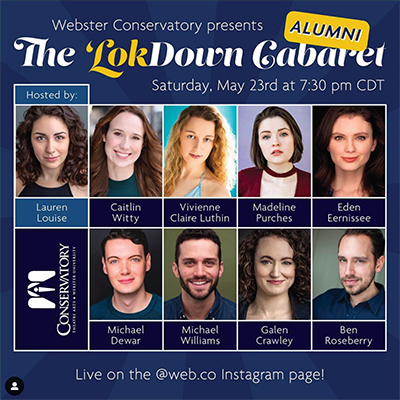 On Saturday, May 23, at 7:30 p.m. the Webster Conservatory will be hosting an Instagram Live Concert. This concert will be the first time Conservatory alumni will be performing for the masses.
Participants can watch the concert on the Conservatory Instagram @web.co. Make sure to follow the Instagram account for any updates or to see when the next concert is coming up.

Alumna Lauren Louise (Acting '19) will host the concert. Performers will include these Conservatory alumni:
⠀
Ben Roseberry (Musical Theatre '03)
Caitlin Witty (Musical Theatre '19)
Eden Eernissee (Musical Theatre '15)
Galen Crawley (Musical Theatre '10)
Madeline Purches (Musical Theatre '17)
Michael Dewar (Musical Theatre '15)
Michael Williams (Musical Theatre '15)
Vivienne Claire Luthin (Acting '19)