Webster at Home: Remain active with @gorlokstrength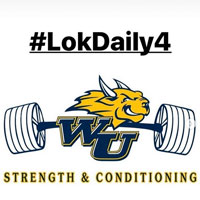 Show us how you're working or teaching remotely during the coronavirus pandemic using the hashtag #WebsterAtHome with your social media posts.
With everyone staying home during the quarantine, people can start feeling unsteady and restless. According the World Health Organization, staying at home for prolonged periods can pose a significant challenge for remaining physically active. Sedentary behavior and low levels of physical activity can have negative effects on the health, well-being and quality of life of individuals. Self-quarantine can also cause additional stress and challenge the mental health of citizens.
Instagram @gorlokstrength

Avoid the gym and stay healthy with alternative training options you can perform both with and without equipment. At the Instagram account @gorlokstrength, Webster University Athletics Head Strength and Conditioning Coach Matthew Saitz features strength training exercises for Webster student-athletes. During the quarantine, he has been demonstrating some workouts from his home in Wentzville, Missouri.
Saitz is also an adjunct professor of Exercise Science in the Biological Sciences Department and the staff advisor for the Fellowship of Christian Athletes (FCA). Saitz is a Certified Strength and Conditioning Specialist (CSCS) and a Registered Strength and Conditioning Coach (RSCC) through the National Strength and Conditioning Association (NSCA).