Webster At Home: DADAH students show off their home art studios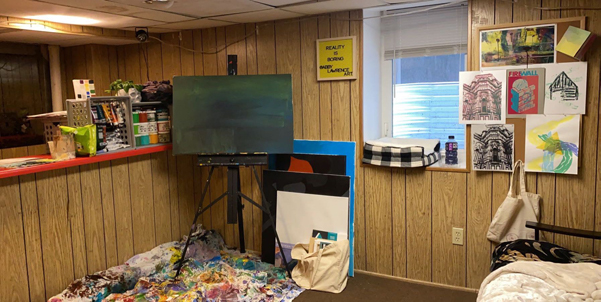 Webster University community: Show us how you're working or teaching remotely during the coronavirus pandemic using the hashtag #WebsterAtHome with your social media posts.

With people quarantined at their homes due to the coronavirus pandemic, the Department of Art, Design and Art History (DADAH) in the Leigh Gerdine College of Fine Arts switched up their social media to showcase some of the DADAH students' home studios where they continue to create artwork for their classes.
Suddenly switching to a remote work or learning environments requires flexibility. As art majors, it can be challenging to move from college back home, and many times these students rely on the campus studios to do their projects. So to help out, some students offered some advice about moving from campus to their art home studios.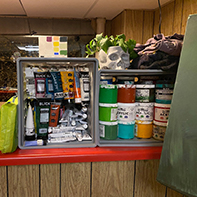 Art Students: What was the best and most positive part of moving your studio to your house?
"When moving my studio space from school to home I always make sure not to underestimate the number of bags, crates, totes, and or boxes needed to move everything." said senior Abby Lawrence. "It's never fun to have to make two trips because you didn't bring enough carrying vessels. Also, don't worry about how big or small your space is at home; everything always fits and always works out. Don't be afraid to adapt and evolve the space as you begin working in it, and your first set up might not always be your best."
"When moving my studio home, I had to keep in mind that technically it isn't quite 'My House,' which meant I had to learn how to keep my mess contained and area clean," said senior Anna Alt. "I utilized buckets, boxes, bins, and drawers to store supplies in so they're still accessible, but also organized (and kept away from a dog that likes to snack on paintbrushes and markers). I use a drawing board as an art/mess surface, and I keep paper towels on hand just in case a material gets on the carpet, also, instead of storing all of my works (and ones I've collected)."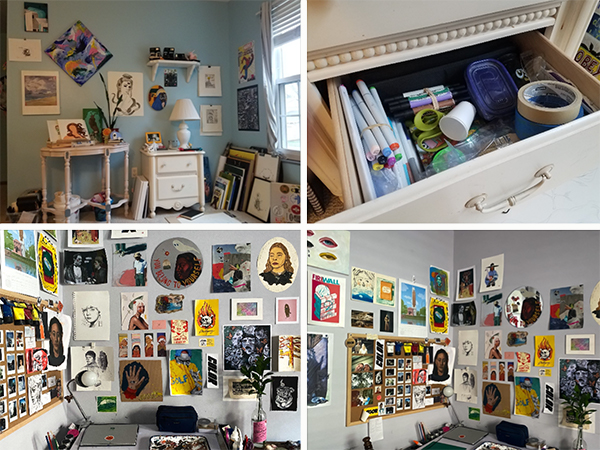 "I got permission to use a wall and hang up those that keep me inspired. I would highly recommend that! The addition of a plant and little figures are there to keep me happy and less lonely, but that's just my personal preference," said Alt. "During this time of chaos and uncertainty, take time for yourself, and put happiness anywhere you can. If making art (or doing online class) begins to feel overwhelming, take a step back. It's all right to pause and do something for your own wellbeing."
"The best part about it is that you can make it a space that is best for you and somewhere where you find comfort and motivation at the same time," said sophomore Monica Haines. "It also helps you sort out all of your own art and materials to make it organized in your own way. I try to make my space as positive as I can with different art pieces and other things that make me happy.
Art Students: Stay connected!
Art majors are encouraged to join the Facebook group Webster University Department of Art, Design & Art History to share their artwork and showcase their at-home studios. When posting, makes sure to use the #WebsterAtHome so that way all of the Webster community can see the posts.