Webster At Home: Improve body, mind, and spirit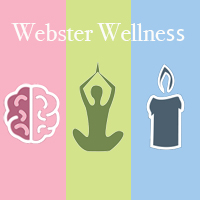 Joshua Perreault, Aquatics and Fitness coordinator, has prepared a three-week program for members of the Webster community that will incorporate the mind, body and spirit. Each weekly actives will engage in promoting wellness during this time of social distancing—the mind on Monday, the body on Wednesday and the spirit on Friday.
Follow along on social media to get connected and share your experiences with others:
Note: These activities are meant to create a foundation for our individual wellness. As we build upon our foundation from week to week, you may find that you are not ready to engage in a particular activity just yet. That is okay. You can always come back and complete these tasks when you are ready, or you can repeat them as desired.
Monday: Mind
As the list grows, so will your self-esteem.
This week start a compliment file. We tend to be more negative towards ourselves than positive, which is harmful to our self-esteem. Set intentions to re-building, or continue to grow self-esteem and confidence through self love. The challenge is creating a weekly compliment file.
Every Monday, using a journal, phone, computer or tablet, participants will write down something that they like about themselves. or would like to start appreciate. With each week that passes, participants can review compliments and add to their list.
Wednesday: Body
Walk it Out
The goal for this week is to get 30 minutes of walking done, whether it be inside on a treadmill or outside. If 30 minutes is too much to do at one time, break it down into sessions. Whether that be three 10-minute sessions or two 15-minute sessions. If a 30-minute walk seems easy, then pick up the pace and make it more of a challenge.
Friday: Spirit
Just Breathe
This challenge is to focus on just breathing. Participants should take ten minutes to forget about what is going on around them and simply breathe. For assistance, participants can watch Mindful Breathing Meditation for help.
Link below to get apps to help with mediation.