Webster at Home: International Pen Pal Program; Student Ambassadors on Instagram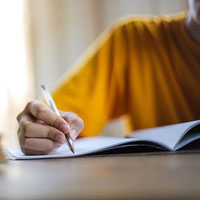 Show us how you're working or teaching remotely during the coronavirus pandemic using the hashtag #WebsterAtHome with your social media posts.
International pen pals
Though there is a need for social distancing across the globe, it hasn't prevented communication throughout campuses worldwide to take on new life.
The Webster Pen Pals program was created to bring people from every Webster campus closer together through their preferred form of communication: digitally or through traditional post. Upon signing up, interested individuals were granted access to bonus postcard templates to help them get started on the project.

Student Ambassadors reach out on Instagram
Vincent C. Flewellen, Webster's Chief Diversity Officer, has turned to Instagram with graduate assistant, Brian Barlay, to try and keep up to date with Student Ambassadors on what is happening with students and share their stories through video. With a welcoming message, the Student Ambassador team is looking to create a space for people to come together and ask questions or just share in the personal experiences.
As Flewellen stated in their initial video, "We certainly are in some uncharted waters here and are doing our best to support one another and look after each other and this is our attempt to do so with you."
Find more videos of them and interact with the student ambassadors via Instagram here.