Webster At Home: Week 4 of Wellness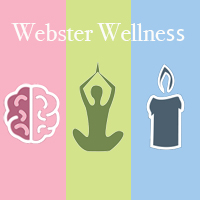 Joshua Perreault, Aquatics and Fitness coordinator, has added another week of wellness activities for the Webster Community. These activities will engage in promoting wellness during this time of social distancing—the mind on Monday, the body on Wednesday and the spirit on Friday.
If you find that any of these activities do not suit you, feel free to look back at any of the previous weeks, and repeat any of those. The activities from those weeks can be found on the Webster University Center Facebook and Instagram pages.
Follow along on social media to get connected and share your experiences with others:
Monday: Mind
Learn something new!
Take time today to learn a new activity or skill. This could be anything interesting to you so use your imagination as you engage in this activity. If you are unsure of where to start or where to find directions, YouTube and Google are great resources!
Don't forget to add another compliment to your file.
Wednesday: Body
Find some balance during finals week and join one of our very own staff members for a live Yoga event. The event will take place at noon on the Webster University Center Facebook page. All you need to do to join is like the page, if you haven't already, and then join the live feed once the class goes live.
Friday: Spirit
Do one thing for someone else!

Take some time to make another person smile today.
Maybe you write your spouse a heartfelt note, send flowers or cook a meal, play catch or another game with your child, or call a friend to tell them how much you appreciate them.