Webster At Home: Week 3 of Wellness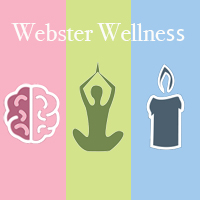 Entering into the third and final week of the program, there are new activities that will engage in promoting wellness during this time of social distancing—the mind on Monday, the body on Wednesday and the spirit on Friday.
Note: These activities are meant to create a foundation for our individual wellness. As we build upon our foundation from week to week, you may find that you are not ready to engage in a particular activity just yet. That is okay. You can always come back and complete these tasks when you are ready, or you can repeat them as desired.
Monday: Mind
Break out those puzzles and board games, and shuffle those cards, because today we are playing games. Whether by yourself or with the whole family, complete a puzzle or play a strategy game to challenge your brain.
Don't forget to add another compliment to your file.
Wednesday: Body
Using the attached bingo card and a stopwatch, try and make BINGO by completing an exercise in each column. Once you have completed five exercises (making BINGO) that is one round. Try to complete at least three rounds, or as many rounds as possible in 30 minutes.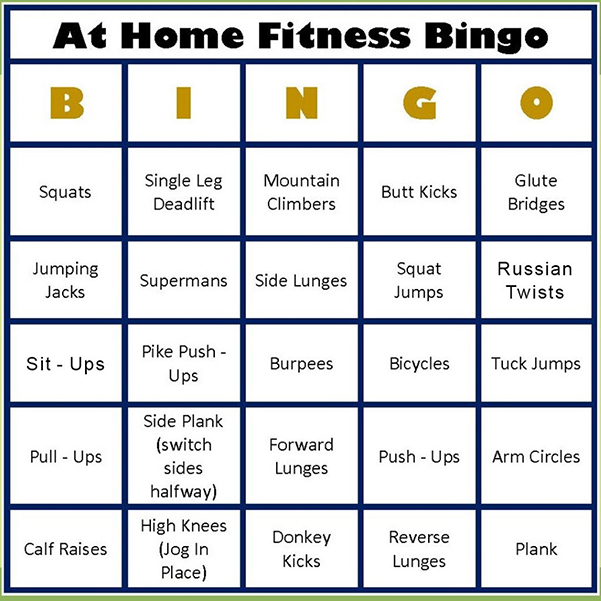 Each exercise should last 45 seconds, with a 15 second rest before you move on to the next exercise. Feel free to create bingo in a variety of different ways to keep this activity interesting.
Friday: Spirit
Spend quality time with someone!
Although we may be stuck at home, we do not have to be disconnected from friends and family. Enjoy one-on-one time with someone you love, give a friend a call to check-in, video chat with members of the family whom you haven't seen in a while, or even hop online to play video games with your pals.
Follow along on social media to get connected and share your experiences with others: