Webster At Home: Week 2 of Wellness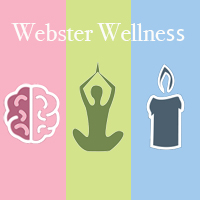 Entering into the second week of the program, there are new activities that will engage in promoting wellness during this time of social distancing—the mind on Monday, the body on Wednesday and the spirit on Friday. These were created by Joshua Perreault, Aquatics and Fitness coordinator.
Note: These activities are meant to create a foundation for our individual wellness. As we build upon our foundation from week to week, you may find that you are not ready to engage in a particular activity just yet. That is okay. You can always come back and complete these tasks when you are ready, or you can repeat them as desired.
Monday: Mind
It's time to tidy up!
Cleaning our physical space is a great way to reduce stress and increase productivity! Feel free to sing and dance along to your favorite music while you tidy up your space! An audiobook or podcast works great to! If tackling the whole house at one time is too much, start with a single room and move at your own pace.
Don't forget to add another compliment to your file.
Wednesday: Body
Eat those veggies!
It is no secret that a diet rich in fruits and vegetables has amazing benefits to our quality of life. Try and get all four servings of veggies in today. If this is an easy task, try and get all four serving of vegetables in four days of the week.
Friday: Spirit
Do one thing for yourself!

Take time out of your day to do something for you, and you alone. This could be reading, journal writing, playing video games, or even a pedicure. Everyone needs this from time to time and there is nothing wrong with that.
Follow along on social media to get connected and share your experiences with others: