Webster Athens Faculty Engage with Academic Articles, International Forum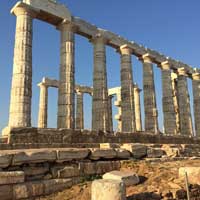 English Department faculty members at Webster University's Athens campus have been restless minds, actively engaging in publishing articles and partaking in conferences.
Within the last period, faculty published articles entitled, "The Brain, a Language Learning Stimulant," in ELT NEWS, the English Language magazine for Teachers and Educators, and "Cognition: Its Evolutionary Impact on Language Learning, Literature, and Beyond," in TESOL Greece, a reputable scientific journal aimed at English language teachers and trainers.
In October, Susie Michailidis, professor and vice-rector for Academic Affairs; Peggy Manouka, assistant professor and director of Admissions; and Giannoula Vasiliou, assistant professor, participated in the 4th Central Asian International Online Forum on "Quality Assurance in Education," held at Nur-Sultan, the capital of the Republic of Kazakhstan.
The pursuit of the paper they presented, "The Potential of Neuroscience in the Education of Literacy and Linguistics," rested on the thorough and insightful investigation of how the human brain registers and interprets literature and language and under what a sophisticated process, ultimately benefiting the learner even in old age. Vasiliou emphasized that experts in the fields assert that, "One exposed to literature and the learning of one or more foreign languages has fewer chances of suffering from Alzheimer's, dementia, and other age-related illnesses."
The latest activity within Webster Athens centers around the issue of accreditation. Global institutions and programs of higher learning and education strive to enrich the value and quality of both attained by accreditation and international experts' assistance. Michailidis was delivered a personal invitation by The Independent Agency for Accreditation and Rating (IAAR) to participate in the accreditation of Pyatigorsk State University (Russia), one with a rich history and glorious traditions dating back to 1939. With the evaluation team's joint effort, Michailidis expressed her entrust and announced probable recommendations on how Pyatigorsk University should meet the established standards of educational quality and effectiveness.
"The requirements for accreditation dictate a role in the improvement of educational programs and adjustment to the quality of international requirements for Higher Learning institutions," said Michailidis.