Webster Athens Open House: Meet Our Visitors From Greece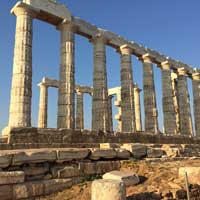 Faculty and students are invited to an open house to meet with our visitors from Greece on Monday, April 24, from 4:30-5:30 p.m. at The Global Exchange in Sverdrup 107.
Webster-Athens' Vasilis Botopoulos, chancellor and managing director, and Susie Michailidis, vice chancellor for academic affairs, will be available to speak about their campus, their offerings and opportunities for both faculty and students.
"Why Greece?" You may ask... and "Why Athens?" Greece is the birthplace of so many modern ideas and Athens is the center of where it all happened. Webster-Athens is in an excellent location for formal study at the foothills of the Acropolis. Just walking around the streets near the university, you can take in so much of this ancient, yet modern, city. With its extraordinary artistic, intellectual and cultural heritage, Athens is richly endowed and presents a very unique setting for teaching and learning.
For faculty, teaching in Athens, even if for a short time as part of a faculty led program, can be an extremely rewarding and unique experience. Teaching abroad offers faculty the opportunity to travel to a foreign land and experience a different culture.
Stop by and talk with our visitors and consider the possibilities.