Webster Basketball Donates Shirts for Harvey Victims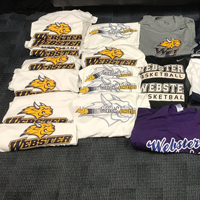 When Kelvin Sampson, the head men's basketball coach at University of Houston, put out the call for fellow coaches and teams to donate t-shirts and/or shoes for people who suffered losses from Hurricane Harvey, the Webster basketball coaches jumped right in.
Webster men's basketball head coach, Chris Bunch, and women's basketball coach, Jordan Olufson, put together a bundle of t-shirts, polo shirts, and even jackets of Webster gear and donated them to Coach Sampson's drive.
"I think it's a great effort that Coach Sampson has put together and we are proud to be able to help out the community of Houston in its troubled time," said Olufson.
Any interested parties can help Sampson's cause by shipping clothing or shoes to:
Kelvin Sampson
University of Houston Basketball
Guy V Lewis Development Center
3480 Cullen Blvd.
Houston, TX 77204
For more information regarding Webster's basketball teams including their schedule, please visit the Webster Athletics site.