Webster Cheerleading at Nationals

Webster University Competitive Cheerleaders performed a flawless routine with zero deductions at the Cheer Ltd. Canam National Collegiate Cheerleading Championships, earning them an Outstanding Award and a 5th place national ranking in the Intermediate Co-ed Collegiate Division.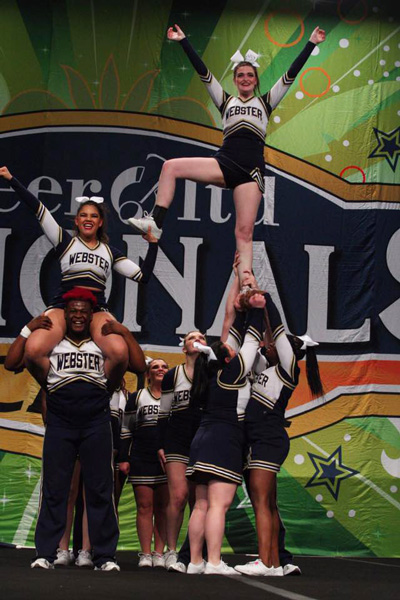 The competition was held in Myrtle Beach, South Carolina, on March 17.
This competition marked the first time in the University's 102-year history that Webster cheerleaders participated. The Competitive Cheerleader program is only two years old.
"The Webster University Competitive Cheerleading Program is the foundation for academic and athletic spirit on campus and within the Webster University community," said head coach Justin Barton, who was instrumental in launching the program two years ago.
The Cheerleading team thanks the Webster University community for their support.
To view more pictures and a video of the Nationals Routine, visit facebook.com/gorlokcheer.