Webster China Staff Instrumental in U.S.-China Education Dialogue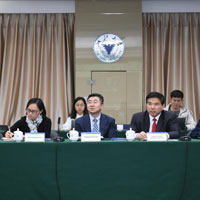 Candice Zhao of Webster University China was the master of ceremonies for the 8th annual conference of American Universities' China Association (AUCA), which focused on the development of alumni associations in China, and changes in how U.S. and Chinese universities are successfully cooperating. The conference was hosted by Zhejiang University.
Webster was a founding member of the AUCA, which launched in 2014. Nelly Zhang, deputy director of Webster China, developed a relationship with Zhejiang University, which led to the April conference that took place last week.
Representatives of 25 U.S. universities attended the forum, including University of Virginia, Boston University, Duke Kunshan, Johns Hopkins, Illinois at Champaign-Urbana, New York University, Purdue University, USC, University of Maryland, and Webster.
Wanling Qu, AUCA co-founder, provided opening remarks, addressing the vital importance of Chinese partner institutions cooperating with U.S. schools. Qu is the director of the China office at the University of Minnesota (UMN).
The keynote presentation was given by Hualiang Lou, vice director of development and liaison office and vice secretary-general of Zhejiang University. "Mr. Lou shared information about his university's remarkable alumni network development strategies and engagement initiatives that span the globe," Zhang reported. Lou believes that his school's alumni connections have boosted Zhejiang University's global brand awareness, an experience Webster China can also attest to.
"We deeply depend on our China MBA alumni," Rick Foristel, Webster China director said. "They recommend our programs to their work colleagues and friends, while they constantly contribute to our own forums, and symposiums about innovation, company culture, marketing and economics."
Before the Zhejiang meeting, the AUCA polled its 44 member universities about their concerns and interests regarding their educational work in China. Their top concerns included alumni engagement, alumni database and tracking, funding, and legal issues in China.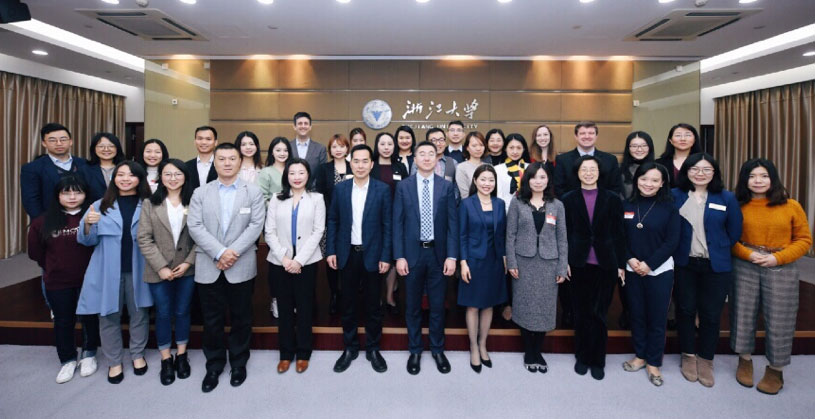 Later in the day, a U.S.-China cooperation discussion included roundtable discussion from the Zhejiang Provincial Department of Education and Zhejiang University's Global Engagement Office. Representatives of other Chinese universities contributed ideas and discussion. Xue Fei, the deputy director of the Office of Global Engagement in Zhe Jiang University led the round table discussion.
"Webster China's staff were instrumental in planning and moving the Zhejiang event forward," Foristel said. Webster China staff were active participants during the day of the forum. Prior to the conference, staff worked for months to collect data, find speakers, and promote the event.
Ady Cao, Webster Shanghai manager, was able to see her handiwork in the development of a new AUCU logo, which was unveiled at the event. She had worked with the AUCU Steering Committee and local designers to create a lasting visual of AUCA – and all the American universities that create the reality.