Webster University Students Prove World-Class Business Acumen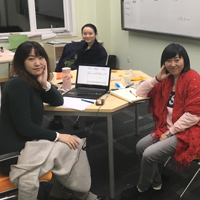 Webster University graduate students Dongning Guan, Yang Ning and Xing Shi were runners-up in an international business simulation competition last fall, succeeding against students from 224 universities across 19 countries. The Webster team competed in the 2017 Capsim Fall Challenge against finalists from the United States, India, Taiwan, Lebanon and Israel.

Dongning, who is studying for an MBA in China, first used Capstone Business Simulation in Webster faculty member John Jinkner's class. Jinkner teaches at Webster's Jacksonville, Florida, campus location, but taught Dongning at Webster China through Webster's faculty mobility program.
"Previously, I learned marketing, finance, operating management, et cetera, but only understood each one individually, instead of making decisions based on all of those factors," Dongning said. "Capsim made me think about how all the facts affect each other and the final decision."
Jinkner has taught a Capsim Challenge winner and finalists in the past, including the 2016 team of Webster Jacksonville students.
"I encourage students to compete because competing helps to raise the status of both the students and the school," Jinkner said. "The Capsim Challenge is a great way to showcase both." He said simulations are "an excellent teaching method because lessons learned stay with students forever. Books, lectures and homework are good for names, dates, and formulas; but gut-based intuition only comes from experience."

Yang Ning, who plans to become a manager in a leading international company, said: "It's fun to run Capsim simulations, it feels like managing a real company. And it's also very exciting to compete with other teams from all over the world."

The biannual Capsim Challenge is open to all students who have completed a Capsim business simulation in the preceding semester and attracts thousands of competitors worldwide. The top six teams enter an intense, eight-hour battle to see who can run the most successful corporation in a zero-sum environment. They are assessed using a Balanced Scorecard, ensuring the finalists succeed on a range of business parameters, not just the bottom line.
Master of Business Administration (MBA) Programs
Learn more about MBA offerings at Webster University campus locations around the world and online here.