Webster University Dance Presents 'New Works' Concert Nov. 9-11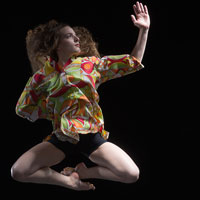 Webster University Dance faculty, alumni, and students collaborate to present 'New Works' Dance Concert 2017.
The concert features the creative work of Webster University Department of Dance faculty and alumni and is performed by Webster Dance students.
Choreographers include faculty Betsy Brandt, Jan Cosby, Maggi Dueker, Dawn Karlovsky, Monica Newsam and alumni Jacob Henss (BA '17) and Aquila Rosewind (BA '04).
"Our faculty and alumni choreographers bring a wide range of expertise and artistic perspectives to New Works," says James Robey, chair of the Department of Dance in Webster University's Leigh Gerdine College of Fine Arts. "Seeing our students rise to the challenge that this range of styles offers is truly impressive."
Performances
Thursday, Nov. 9 at 7:30 p.m.
Friday, Nov. 10 at 7:30 p.m.
Saturday, Nov. 11 at 2 p.m.
Stage III, Webster Hall.
The concert is free, but donations are appreciated.
The works include a variety of styles from contemporary dance, tap, improvisation, and aerial dance. Besty Brandt will premiere To Thicken which explores the unusual tension between complexity and melancholy.
"Complexity is an idea that we usually associate with manic speed and effervescent energy," says Brandt. "This duet is simultaneously unreadable and intriguing. Who are these people, what are they trying to do, why is it so hard, and what is at stake?"
Maggi Dueker's Within and Without looks at relationships and how our view of the world and each other is impacted by outside influences.
"In observing the way my own children interact with others and are seemingly able to see each situation as it is without preconceptions, I've found myself considering how having more experience and information often seems to result in a more narrowed, uncompromising view," reflects Dueker.
For more information, please visit webster.edu/dance or call 314-246-7747.