Webster and Dance The Vote Announce Winners of 'Make Good Trouble' Contest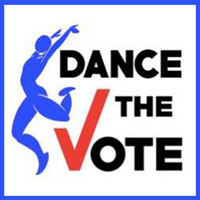 Webster University and Dance the Vote are pleased to announce the winners of the first "Make Good Trouble: Why John Lewis Inspires Me to Vote" contest for college students throughout the United States. The competition received entries from students studying throughout Missouri and other states, including New York and Alabama. The submissions have included video, painting, collage, personal testimony, illustrated essay, dance, and spoken word.
"It's exciting and important to help students connect with the legacy of civil rights icon John Lewis, and to commit to voting, as well as expressing concerns that might compel them to vote," said Joan Lipkin, founder of Dance the Vote and the contest initiator.
Joan Lipkin visited many college classes virtually to talk about voting, John Lewis, and the contest to discuss the challenges of voting for students, and to answer any questions.
"Overall, the pieces were excellent, and offered significant insight to what students are thinking and caring about, making judging challenging," said Lipkin. "But it is also encouraging to see them express themselves in so many creative and powerful ways and to commit to voting."
The entries were judged by a committee of nine including Dance the Vote team members, community volunteers, students, and Webster University faculty and staff.
"Webster is thrilled to have partnered with Dance the Vote on this incredible project," said Vincent C. Flewellen, chief diversity officer. "We received some outstanding submissions from students who reflected on history and the importance of honoring the legacy of John Lewis. We continue to be known for our innovation and a collaborative initiative of this kind is a reflection of learning and partnership at the highest level."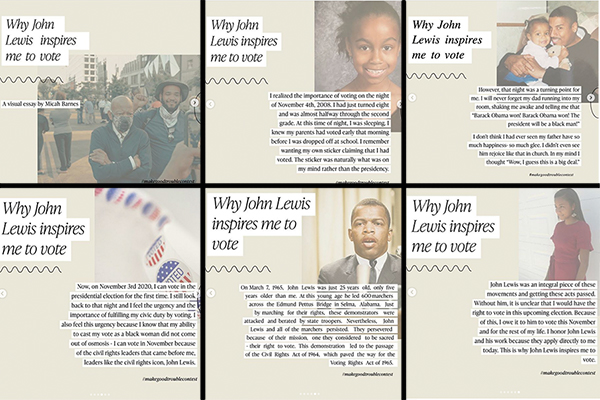 Lipkin said some of the work was so strong that she has added additional recognitions in at least one category with cash prizes. Dance the Vote has also decided to send a book about John Lewis to everyone who entered and to support local St. Louis bookstore Left Bank Books.
"The value of a competition like this goes beyond the technical facility or aesthetic concerns of the entries," said Lipkin. "It is about encouraging the next generation of voters and active citizenship in both their creativity, understanding of history and commitment to civic engagement."
Winners of "Make Good Trouble"
Grand Prize ($500 recipient)
Micah Barnes, 20
Webster University
Photo essay: "Why John Lewis Inspires Me to Vote."
Prize Winners ($250 recipient)
Alaina McAlister, 18
Webster University
Illustration: "Lewis Empowering the Next Generation"
Travis Haughton, 21
Webster University
Video: "Get Up and Vote"
Miles Santoscoy, 18
Webster University
Photo collage: "We Rise"
Ivana Solomon, 21
Webster University
Video: Untitled
Two special Citations of Excellence ($100 recipient)
Jessica Luke, 18
Webster University
Painting/mixed media: Spe (It's Latin for hope)
Trinity Ross, 19
University of Alabama
Dance: "Power of the Voice"
All award recipients will have a spotlight on the official @WebsterU, @DanceTheVoteSTL and @WebsterVotes Instagram pages.
About Dance the Vote
Dance the Vote is a nonpartisan arts initiative that pairs dance, poetry, spoken word, song, graphics, video and texting with voter awareness and registration. Dance the Vote provides an opportunity to showcase the skills of local and national choreographers and dancers in service of community involvement.
Most of the choreography is based on various themes of the voting experience, including the experience of African-Americans, women, people with disabilities and immigrants around voting, voting rights, voter suppression, voting in other countries, among other themes.