Webster and Dance The Vote Kick Off National Voter Registration Day with 'Make Good Trouble'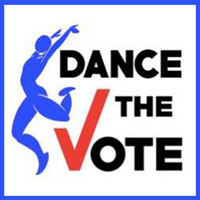 Following the death of iconic civil rights leader and Congressman John Lewis, Dance the Vote and Webster University have partnered to offer the "Make Good Trouble: Why John Lewis Inspires Me to Vote" multimedia collegiate competition, a non-partisan voting initiative to encourage voter registration and participation in the November 2020 elections. The contest kicks off on Sept. 22 and entries are accepted until Oct. 12.
With Webster's history of student voter registration and student engagement in the voting process and Dance the Vote's commitment to voter registration, education, and the arts. this initiative pushes our good trouble deeper into the national spotlight.
"We know that Webster University students are engaged as voters and this is an opportunity for them to tell us why they choose to do so," said Jennifer Stewart, director of Student Engagement. "Webster students can honor the legacy of John Lewis by telling us how they "make good trouble" and help encourage and inspire other young people to register and vote."
As one of the greatest American heroes of our time, civil rights icon and congressional representative John Lewis' legacy is an essential part of civil rights and American civic history. Lewis helped organize the 1963 March on Washington, held many key roles in the civil rights movement and worked to end legalized racial segregation.
"Nearly 40 percent of students who were eligible to vote cast ballots in the 2018 elections, and that was a significant upswing from 19 percent in the 2014 so we still have work to do," said Joan Lipkin, artistic director of Dance the Vote. "We think this is an innovative way to promote the legacy of John Lewis, to encourage more college students to commit to the important right of voting and to recognize their creativity."
To honor Lewis' impact and influence among college students, Webster University and Dance the Vote invite all college students in the United States to post multi-media, images, videos, music, dance, painting, sculpture, poetry, or other artistic expressions inspired by John Lewis' legacy. Each of the four finalists will receive $250 and a grand prize winner will receive $500. Prize money is provided by Dance the Vote St. Louis.
"We are encouraging students to carry out the legacy of John Lewis in their own creative and unique way," said Vincent C. Flewellen, chief diversity officer. "There are so many ways we can 'make good trouble' and we are proud to partner with Dance the Vote to make this contest a reality."
Rules for Participating
Students are asked to post their media on Instagram on the topic "Why John Lewis Inspires Me to Vote."
Media can be created in and/or posted to Facebook, Instagram, Twitter, or TikTok but must be shared on Instagram to be eligible for the contest prizes
The contest is open to any currently enrolled student at a College or University in the United States.
Submissions should be no longer than 60-seconds in length.
Submissions should tag @WebsterU, @DanceTheVoteSTL, @WebsterVotes #MakeGoodTroubleContest in the caption. All tags must be included to be qualified for the contest.
The contest begins on Tuesday, Sept. 22 at noon and ends on Monday, Oct. 12 at 11:59 p.m.
For more information on the contest click here.
About Dance the Vote
Dance the Vote is a nonpartisan arts initiative that pairs dance, poetry, spoken word, song, graphics, video and texting with voter awareness and registration. Dance the Vote provides an opportunity to showcase the skills of local and national choreographers and dancers in service of community involvement.
Most of the choreography is based on various themes of the voting experience, including the experience of African-Americans, women, people with disabilities and immigrants around voting, voting rights, voter suppression, voting in other countries, among other themes.