Webster Day at Busch Stadium April 30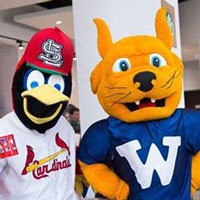 The Alumni Association and Parent Association would like to invite all members of the Webster Univeristy community to join us for Webster Day at the Ballpark on Sunday, April 30 at 1:15 p.m. as the Cardinals take on the Cincinnati Reds.
Tickets are $20 per person and located on the Left Field Porch (formally the Casino Queen Party Porch). All tickets include a voucher for a free jumbo hot dog & soda, redeemable at any concession stand.
For more information, please visit alumni.webster.edu/Cardinals2017 or contact Corinne Hilbert at 314-246-5961.
Fredbird Visits Webster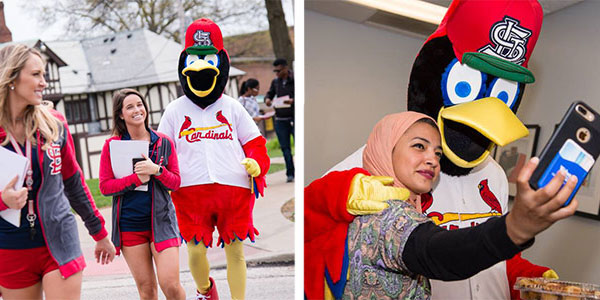 Fredbird, the St. Louis Cardinal's lovable mascot, visited Webster University's home campus, April 11, to promote College Night at Busch Stadium. As he explored campus, students had the opportunity to snap photos with him.
See more photos from his visit in this Facebook album.
College Night at Busch Stadium
Monday, April 17 Cardinals vs. Pittsburg Pirates at 6:05 p.m. CDT; Tickets $20
Tuesday, May 2 Cardinals vs. Milwaukee Brewers at 7:15 p.m. CDT; Tickets $20
For more information about College Nights, please visit mlb.com/cardinals/tickets/theme-tickets/college.