Webster Film Series Presents 'Our Mothers'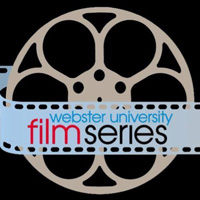 This week the Webster Films Series will be presenting the film "Our Mothers" a Guatemalan/Belgian co-production, which won the Camera d'Or (best first film) at Cannes last year. The film series has also secured more virtual screenings for the coming weeks. Continue to support The Webster Film Series, with each rental the film series will receive $5 of the $12 rental fee.
Webster Film Series Presents: Our Mothers
The fiction feature directorial debut of the Guatemalan filmmaker César Díaz is a modestly scaled picture with massive implications. Díaz's background is in editing, and there's a strong documentary component in his filmography. So it's fitting that in this picture the protagonist is a forensic anthropologist — one who is working on a project that goes back decades rather than centuries, which is usually what we see in movies featuring anthropologists.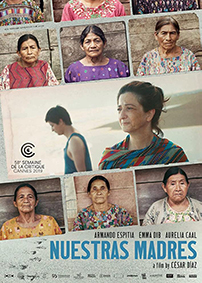 Click here to rent Our Mothers.
Synopsis: Guatemala, 2018, The whole country is immersed in the trial of the soldiers who sparked the civil war. Victim statements come one after another. Ernesto is a young anthropologist working for the Forensic Foundation; his job is to identify the missing. One day, while hearing the account of an old woman, he thinks he has found a lead that might guide him to his father, a guerrillero who went missing during the war. Against his mother's wishes, he flings himself body and soul into the case, looking for truth and resilience.
Director César Díaz will livestream two Q&As: Saturday, May 2, at 6 p.m. and Sunday, May 3, at 3 p.m. These sessions are free to our patrons. Click here to register for the Q&A with Director César Diaz.
"César Díaz's debut may be one of the few fiction features to look at the horrors of the genocide perpetrated by the U.S.-backed military against the indigenous population, but his rudimentary screenplay is so overly didactic that the good intentions are diluted by the formulaic structure and writing. Notwithstanding a few genuinely affecting moments, "Our Mothers" never breaks free from being a standard social-issue movie mostly invested in preaching the cause" - Variety
"Díaz's approach is plain and solid, like a well-built wooden chair before varnishing. The revelations of the story are often ghastly, but "Our Mothers" doesn't go for the emotional jugular. Near the end there's a montage of the faces of many poor women; most of them are on the precipice dividing middle and old age but they all look practically eternal in the way their features express, without trying, vast reservoirs of pain and fortitude. Díaz presents them, and leaves the rest in the laps of the viewers. Their moment in world history may be, as far as some are concerned, past. But the implicit question here is still pertinent: Which side are you on?" - The New York Times
Last Chance to Rent Sátántangó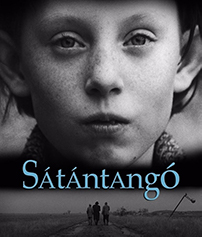 Synopsis: One of the greatest achievements in recent art house cinema and a seminal work of "slow cinema," Sátántangó, based on the book by László Krasznahorkai, follows members of a small, defunct agricultural collective living in a post-apocalyptic landscape after the fall of Communism who, on the heels of a large financial windfall, set out to leave their village. As a few of the villagers secretly conspire to take off with all of the earnings for themselves, a mysterious character, long thought dead, returns to the village, altering the course of everyone's lives forever.
Shot in stunning black-and-white by Gábor Medvigy and filled with exquisitely composed and lyrical long takes, Sátántangó unfolds in twelve distinct movements, alternating forwards and backwards in time, echoing the structure of a tango dance. Tarr's vision, aided by longtime partner and collaborator Ágnes Hranitzky, is enthralling and his portrayal of a rural Hungary beset by boozy dance parties, treachery, and near-perpetual rainfall is both transfixing and uncompromising. Sátántangó has been justly lauded by critics and audiences as a masterpiece and inspired none other than Susan Sontag to proclaim that she would be "glad to see it every year for the rest of [her] life".
"The famous opening—an eight-minute tracking shot that follows a herd of cows as they hoof through the mud (and is infinitely more exciting than I can possibly make that sound)—accomplishes more than its simple action might suggest."- AV Club
"The marathon "Satan's Tango" is a magnum opus to end all magna opera, a dark, funny, apocalyptic allegory of the Hungarian psyche that stimulates, irritates, soothes and startles with blinding strokes of genius in equal turn." - Variety