Webster Film Series Presents 'The Wolf House' and 'Jose'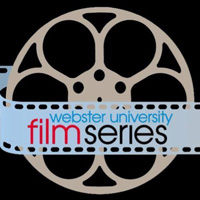 Continue to support The Webster Film Series, with each rental the film series will receive $5 of the $12 rental fee.
This week The Webster Film Series is presenting two new films. The first film is a stunning and innovative work of stop-motion Chilean animation title The Wolf House. The second film being presented is a Guatemalan love story titled José. This film is partnership with QFest St. Louis, which is St. Louis' annual LGBTQIA+ film festival.
The Wolf House and José will be available for rental till May 21.
Webster Film Series Presents: The Wolf House
Combing stop-motion techniques, painting and photography, this exquisitely handcrafted animation feature tells the story of a girl who escapes a cult colony of religious fanatics during Chile's darkest years under Pinochet. Inspired by the actual case of Colonia Dignidad, The Wolf House masquerades as an animated fairy tale produced by the leader of the sect in order to indoctrinate its followers.
In Spanish and German with English subtitles.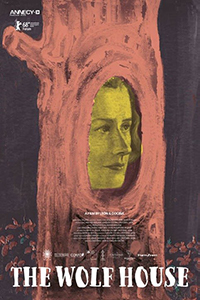 Synopsis: Maria, a girl finds refuge in a house in the south of Chile after escaping from a sect of German religious fanatics. She is welcomed into the home by two pigs, the only inhabitants of the place. Like in a dream, the universe of the house reacts to Maria's feelings. The animals transform slowly into humans and the house becomes a nightmarish world.
Click here to rent The Wolf House
There will be a Q&A Facebook Live with directors Joaquin Cociña and Cristóbal León, to be held on Thursday, May 21, at 8 p.m. and moderated by film critic Carlos Aguila.
Patrons must RSVP to attend Q&A session.
"It's commonplace that folk and fairy tales have their dark sides, but they don't come much darker than in The Wolf House . Fusing Grimm, the early shorts of David Lynch and the stop-motion work of Jan Svankmajer into a visually engrossing, reference-rich and disturbing tale about the mental delirium of a young girl, the deeply uncanny pic makes for an unsettling viewing experience, a creative tour de force whose endlessly fascinating visuals are deliberately seductive and repellent in equal measure." - The Hollywood Reporter
"The Wolf House, an astounding new animated film from Chile, has a cheeky meta-film opening that purports to be from "La Colonia" — a slight variant of the very real-life Colonia Dignidad, a German-founded isolated colony in Chile renowned for its honey and disdained for its exploitation of the labor of Chilean natives."- The New York Times
Webster Film Series Presents: José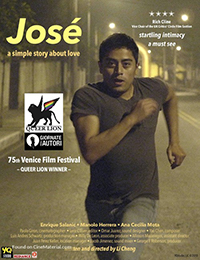 José won the Queer Lion at the Venice Film Festival in 2018, and had just opened in New York days before the lockdown went into effect. Local film critic, QFest co-programmer and full-time Webster staff member Joshua Ray gives a brief introduction to the film for patrons.
Click here to watch introduction of José by Joshua Ray.
Synopsis: 19-year-old José lives with his mother as they struggle to make ends meet. He spends his days working but finds passionate love with another man in the middle of it all. With a love that must be kept under wraps, the relationship grows strained and José must ultimately decide which path he wants to take. José is an honest and intimate look at queer love in a world that doesn't understand it.
"The filmmaking reminds us that the life of a place is often carried on its sounds. Guatemala City is noisy with the honks and exhaust-clearing coughs of traffic, of voices selling food and wares, of street corner preachers hawking gospel certitudes. You can almost smell the food cooking at the restaurant, born on a hiss of heat and smoke." - Variety
"Directed by Li Cheng, who wrote the script with George F. Roberson, the film delicately depicts the hardship of being gay in a Catholic culture and the pressure for machismo in a crime-ridden country. José eventually meets Luis, a migrant construction worker with whom he finds an immediate connection. In a beautiful montage, they ride away on a motorcycle and exchange kisses in a field, the sickening yellow aura replaced by golden sunshine. It's a tonal standout of the film, a blissful reprieve in cinematography and performance." - The New York Times
Last Chance to Rent: Liberté
Caution: For Adults only
Click here to rent Liberté, before May 21

The succès de scandale of all of 2019's major festivals--Cannes, Toronto, New York--you're likely to be grateful to not be watching Liberté in a room full of strangers. Featuring Visconti muse Helmut Berger ( The Damned ) as the infamous Duc de Walchen, who is leading a band of libertines in the remote forest of the late 18th century to reject any agreed-upon notion of morality. You've never seen a costume drama like this one before. Approach with caution; not recommended for those in households with children and/or the easily offended.