Webster Film Series Presents 'Yourself & Yours'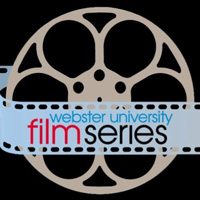 Opening today for the Webster Film Series is the Korean films Yourself & Yours and Hill of Freedom, both films have never been distributed in America. The film series has been working hard to gather more films for the month of June, with each rental, the Webster Film Series will receive $5 of the $12 rental fee.
Webster Film Series Presents: Yourself & Yours
Click here to rent Yourself & Yours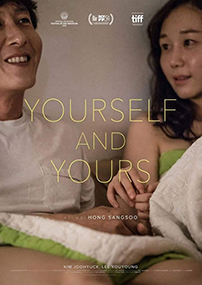 Synopsis: A jealous Youngsoo confronts girlfriend Minjung about another man, and she suggests they stop seeing each other for a while. The next day, Youngsoo goes out to look for Minjung and sees women who look just like her.
"At least two female doppelgangers drink coffee and soju, flirt with various men, and spark gossip and mass confusion in Hong Sang-soo's "Yourself and Yours," a wise and gently absurdist allegory about how best to approach relationships. An inspired reversal of Luis Buñuel's "That Obscure Object of Desire," which had two different actresses playing the same woman, the film casts one actress playing multiple versions of herself — or so it would seem." - Variety
"Love becomes an unsettling hall of mirrors in the latest light-headed reflection on dysfunctional romance from prolific Korean auteur Hong Sang-soo.Yourself and Yours is less formally daring than last year's superior Right Now, Wrong Then, though it plays similarly sly tricks on audience perception with look-alike characters and shifting identities." - The Hollywood Reporter
Webster Film Series Presents: Hill of Freedom
Click here to rent Hill of Freedom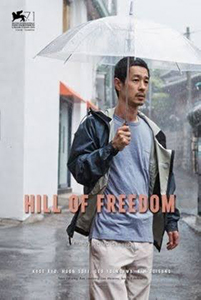 Synopsis: Kwon travels back to Seoul from the mountains, and has to sort letters from Mori to make sense of what is going on.
"The title could not be more of a red herring in Hong Sang-soo's 16th feature, "Hill of Freedom," its noble implications lending outward grandeur to a romantic triangle that reps a cream puff even by Hong's trifling standards. Cream puffs have their merits, though — principally the aerated, uncomplicated sweetness that characterizes this barely feature-length distraction, the light emotional foibles and regrettably careless cinematic construction of which are of a piece with the helmer's swiftly produced recent work." - Variety
"The sentimental music and narration that open "Hill of Freedom" – which could be interpreted as South Korean master Hong Sang-soo's mischievous homage to '90s American indies — is a syrupy red herring: The movie that flows from it SHOULD be lovesick and unbearable. Instead, Hong gives us a soulful, subtly acerbic, tongue-in-cheek critique of narrative coherence." - Indie Wire
Next Available Rental: Queen of Lapa
Queen of Lapa will be made available to rent on June 19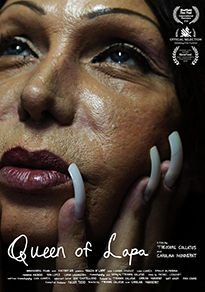 Synopsis: Larger-than-life actress, cabaret performer, activist, and proud sex professional since the age of eleven, Luana Muniz - arguably one of Brazil's most famous transgender personalities - shaped a new reality in her hostel by providing a safe working environment for generations of young transgendered girls in neighborhood of Lapa in Rio de Janeiro. Queen of Lapa explores the women's day-to-day lives, quests for love, the Brazilian political climate, housemate rivalries, all under matriarch Muniz's watchful and guiding eye.
"Its lack of lavishness should not be mistaken for a lack of style and/or creativity because what Monnerat and Collatos have done here is something altogether different and remarkable; they have established an immense level of trust and, with it, a wealth of comfort with the individuals they are documenting that the filmmakers' presence and their camera appear to dissolve into the spaces around them. They are simply present, capturing the intimate trivialities, the rituals of their work and their histories." - Film Pulse
"It is one of those rare, clear-eyed intimate filmmaking endeavors and experiences that needs to be seen, recognized and celebrated. Directed by a husband and wife team- Theodore Collatos (Tormenting the Hen) and Carolina Monnerat, the film observes a long time trans-activist and famous local underground figure, Luana Muniz in the bustling Lapa neighborhood in Rio." - Screen Anarchy