Webster Geneva Hosts 25th International Humanitarian and Security Conference
On Oct. 1, Webster University Geneva hosted the 25th Annual International Humanitarian and Security Conference (IHSC) at the International Conference Center of Geneva (CICG), on the theme of "New Technologies and Humanitarian Action." This year's conference was held in person with social distancing measures, and all keynotes and panels were live-streamed.
Webster's International Relations Department, in collaboration with the Webster Humanitarian Association, a student-led NGO, organized the two-day conference with the support of the Swiss Confederation and the cooperation of the International Committee of the Red Cross and the United Nations High Commissioner for Refugees. The conference, led by Oreste Foppiani, chair of its scientific committee, was held under the High Patronage of the Government of the Republic and Canton of Geneva.
Keynote presenters and panelists joined from the ICRC, UNHCR, OCCAR, Human Rights Watch, USAID, UNICEF and more—as well as from academia, including from EPFL, ETZH, the University of Zurich and Webster's professors, who are leading the panels. In keeping with tradition, Webster University students and alumni also served as presenters and panelists. Many student volunteers helped run the conference, from event logistics to the live streaming and technical support so that remote experts could intervene on panels.

The conference opened with a remote welcome from Webster University President Julian Schuster. "Our devotion and dedication to the issues of humanitarian and security challenges will not be impeded by the pandemic," said Schuster. Clementina Acedo, director of Webster University Geneva, echoed his sentiments, introducing the overarching themes of the 2-day conference and welcoming speakers, both present and remote.
Opening remarks by Olivier Coutau, Geneva State Council's Delegate for International Geneva, set the stage for the importance of the conference tradition, given Geneva's critical role in serving as a hub for both humanitarian affairs and as a hub of innovation and research, with its resources of universities, the CERN, international NGOs and tech innovation. "Innovation is not the end in itself," said Coutau. "It adds value when it answers real needs in the field." Several conference panels included presentations of cutting-edge research in fields that will impact the humanitarian and development sectors.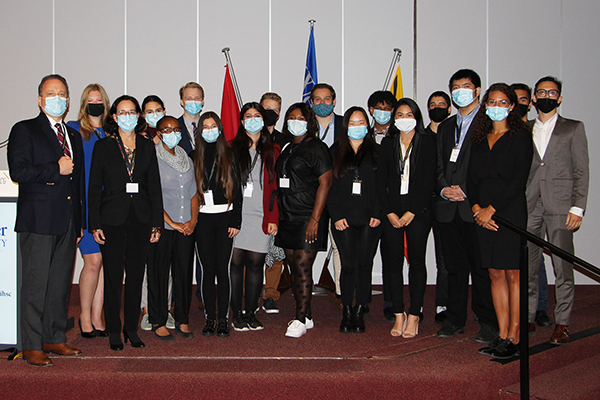 Related to the impact and potential of new technologies in humanitarian action, topics addressed in various sessions ranged from the use of drones, artificial intelligence, and medical robotics in humanitarian action to the specific challenges and benefits of the dual use of military equipment and services (such as with Swiss military, supporting federal government's response to COVID-19 pandemic, or military support for humanitarian interventions).
Panelists shared insights, perspectives and lessons learned from various projects in the field and ongoing research—with many topics especially timely, given the sanitary crisis. Ethical considerations that emerge from the rapid development and application of new technologies, from moral questions about government or private interests to social justice issues, were also explored.
Webster Humanitarian Conference
On the auspicious 25th anniversary of the first Webster Humanitarian conference, which began as a multi-stakeholder tradition with partners from Genève Internationale, a new Otto Hieronymi Book Prize was awarded to two scholarly monographs published recently by professor Lindsey Kingston (St. Louis campus), and professors Lionel P. Fatton and Oreste Foppiani, (co-authors).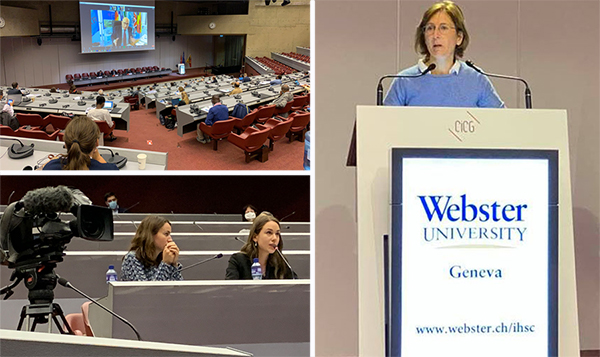 Named after Honorary Professor Otto Hieronymi, who launched the inaugural IHSC and attended today, the Prize was awarded to recognize outstanding academic contributions to international affairs research. Hieronymi shared that he was "deeply moved" to see that the original conference's spirit—faith in the future for humanitarian affairs—remains alive. He noted that both collaboration and research would continue to make a positive contribution to the face of global challenges.
Webster University Geneva expresses its deepest thanks to our keynote speakers and panelists, the WHA and Webster student volunteers, and our annual partners, the ICRC, UNHCR and Geneva's State Council.
The live stream on youtube was recorded and will be made available for asynchronous viewers. For details about the speakers and links to the videos, please visit webster.ch/ihsc.