Webster Ghana Hosts Virtual Public Lecture on Impending 2020 Elections in Ghana, USA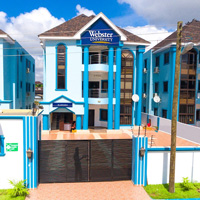 Webster Ghana took its popular panel speaker series online on Wednesday, Sept. 30, 2020. Titled "Presidential Elections 2020! What is at Stake in the USA and Ghana?," the webinar explored the key axes along which voters in both nations are likely to make their decisions as Americans and Ghanaians head to the polls in November and December, respectively. Many interesting yet contentious topics were discussed, from the handling of the COVID-19 pandemic and economic stagnation in both countries to racial tensions and speculations of voter suppression.
Dissecting what promises to be one of the most critical elections in U.S. history, Jean-Germain Gros – who joined from St. Louis, Missouri, and has taught at Webster Ghana as an adjunct visiting lecturer – served as a speaker exploring the American landscape. Gros initiated his lecture by looking at the dire effects of COVID-19 in the United States.
U.S. President Donald Trump was recently quoted saying he was aware of the gravity of the threat from COVID-19 but downplayed it to avoid causing panic. Over 200,000 people in the U.S. have died of the disease, with cases rising despite safety measures instituted across states. Gros expressed that he foresees a slow recovery in the U.S. and maybe a full recovery closer to 2022. The country currently faces economic uncertainty, with many having lost jobs and healthcare along with their employment.
Gros also broached the 2020-defining racial conflict in the U.S. that the world received front row seats to, likening the Black Lives Matters movement to South Africa's Black Consciousness movement. Affected by continued deaths of Black Americans at the hands of police; this demographic will require a lot from either a re-elected Trump administration or a newly elected Biden cabinet.
Gros also dissected the discomfort around political inclusion and exclusion as well as "The Kamala Harris Factor," referring to the first African-American woman chosen as a vice presidential candidate by a major party, which would put her in a strong position to be the next Democratic nominee for president. In conclusion, Gros declared the U.S. to be on the verge of a political crisis that could destabilize the rest of the world.
Similarities Between Ghana and U.S. Democracies
Seidu Alidu was the Accra-based speaker who thrilled the online audience with a deep-dive into the upcoming Ghanaian elections. A senior lecturer in the Political Science department at the University of Ghana, Alidu teased out some interesting similarities between the U.S. and Ghanaian democracies. He mentioned the civil unrest happening at the Togoland border as well as the occurrence of female flag bearers, highlighting the selection of Nana Jane Opoku-Agyemang, as vice president or the National Democratic Congress. Ghana is often lauded as an African nation with free and fair elections since 1957 independence, with a low incidence of violence during government transition.
Alidu spoke about what seems to have become electoral traditions and myths – two successive terms and male presidents, for instance. Some of these have been dispelled, and citizens coaxed from voting along these lines. He also looked at the COVID pandemic in Ghana and how the challenges will impact voting. As of September 2020, Ghana's Ministry of Information reports over 46,000 confirmed cases and about 300 deaths since March 2020.
Global livelihoods and the economy have been shattered, and political campaigning is not as visible as standard, where rallies typically occur far and wide. Ghana's projected growth is dire, and Alidu shared statics to demonstrate further the concerning state of economic affairs, including a loss of 42,000 jobs. "All of thes, have led to a general apathy amongst citizens, many of who confess they do not plan to vote," said Alidu.
Both speakers ran polls to engage the virtual audience of roughly 100 registrants, and results and questions were teased by the moderator, Audrey Gadzekpo, a communications expert, university dean, and Webster Ghana board member. The audience voted racial tension to be the essential issue that will impact the U.S. elections.
Gadzekpo kicked the Q&A session off with questions for each speaker around if we can expect to see an upsurge in people of color voters this year in the US and if parties outside the significant two in Ghana ever have an opportunity of winning. Event attendees also participated with inspiring inquiries for the speakers concerning Ghanaians voting along ethnic lines, increased apathy, political corruption, and whether President Trump has lived up to his 2016 promises.
Webster Ghana's 18th Public Lecture and its inaugural virtual edition proved to be another insightful affair, engaging audience members from across the globe in the relevant discourse, and rounded off with an encouragement for all to exercise their power as citizens to vote in the upcoming elections.