Webster Golf Makes History by Advancing to NCAA D-III Championship Finals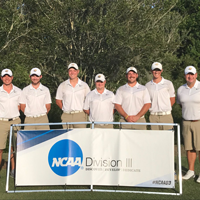 The Webster University golf team made the cut for the finals of the NCAA Division III Championships, shooting a second round 315, on Wednesday, May 17, at the Mission Inn Resort & Club, in Howey-in-the-Hills, Florida. For the first time in team history the Gorloks advanced to the third and fourth rounds, keeping alive their quest for a national title.
The Gorloks, who have a 619 total after the first two rounds, are tied for 17th place. Only the top 18 teams in the field of 42 advanced to the finals. Of the 20 unranked teams that made the field, Webster was just one of two to reach the final 18. Webster made the cut by a razor thin margin of one stroke.

Will Murphy (SO, Staunton, IL/Mt. Olive) was low man for Webster, his second round 73 pacing the Gorloks. Murphy shaved six strokes off his first round total of 79. Zac Ciesla (SO, Lake Charles, LA/Alfred M. Barbe) was second low at 77, matching his first day total.

In the individual field, Murphy and Jon Hughes (SR, Gardner, KS/Gardner Edgerton) were tied for 43rd, in the field of 215, at 152. Ciesla was tied for 63rd at 154.
For full tournament results, please visit the NCAA Men's Division III leaderboard.