Webster Invites Students to 'Make Good Trouble'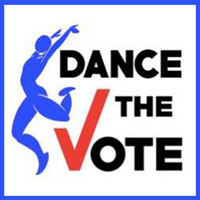 Webster University and Dance the Vote are partnering on a non-partisan voting initiative to encourage voter registration and participation in the November 2020 elections.
Webster University and Dance the Vote invite students to post multi-media, images, videos, music, dance, painting, sculpture, poetry, or other artistic expressions inspired by Representative John Lewis' legacy.
"When you see something that is not right, not fair, not just – say something. Do something. Get in trouble! Good trouble, necessary trouble." - Rep. John Lewis

One of the greatest American heroes of our time, Lewis was a civil rights icon and congressional representative, building a legacy that became an essential part of civil rights and American civic history. To honor Lewis' impact and influence among college students.
For those entering the contest, consider these questions:
Who is John Lewis? What did he do? What does John Lewis' idea of "Good Trouble" mean to me? What should I do? What is the Voting Rights Act? How can we protect Lewis' legacy? Why should we vote to honor him?
Click here to learn more about John Lewis.
Contest Eligibility
Media can be created in and/or posted to Facebook, Instagram, Twitter, or TikTok but must be shared on Instagram to be eligible for the contest prizes
Open to any currently enrolled student at a College or University in the United States.
Post your media on Instagram on the topic "Why John Lewis Inspires Me to Vote."
Media should be no longer than 60-seconds in length.
Tag @WebsterU, @DanceTheVoteSTL, @WebsterVotes #MakeGoodTroubleContest in caption. All tags must be included to be qualified for the contest.
Contest begins on Tuesday, Sept. 22 at noon and ends on Monday, October 19.
Winners
Finalists will be featured on @WebsterU, @WebsterVotes and @DanceThe VoteSTL Instagrams each day from October 19-23.
Four will receive a $250 Prize Winners.
One will receive a $500 Grand Prize Winner.
Prize winners will be selected by the Good Trouble Contest committee.
Consideration will be given to content, style, creativity, and total social media likes.
Must be able to verify college student status.
All winners will be featured on @WebsterU, @DanceTheVoteSTL and @WebsterVotes.
Prize sponsorship courtesy of @DanceTheVote.
Grand Prize: Announced Monday, Oct. 27, and featured on @DanceTheVoteSTL, @WebsterVotes and @WebsterU Instagram pages.
Dance The Vote
Dance the Vote is a nonpartisan arts initiative that pairs dance, poetry, spoken word, song, graphics, video and texting with voter awareness and registration. Dance the Vote provides an opportunity to showcase the skills of local and national choreographers and dancers in service of community involvement.
Most of the choreography is based on various themes of the voting experience, including the experience of African-Americans, women, people with disabilities and immigrants around voting, voting rights, voter suppression, voting in other countries, among other themes.