WebsterLEADS Ushers in 1st Cohort for Spring 2017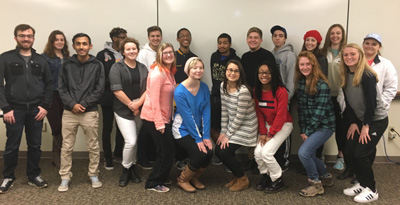 While the Webster Groves campus undergoes improvements and expansions, a longtime leadership program experienced new construction well.
Spring 2017 ushered in a new setup for WebsterLEADS, bringing together 19 students as the program's first cohort to complete the leadership requirements.
The WebsterLEADS program offers students the opportunity to learn about leadership skills through academic coursework, service learning, practical leadership experiences and culminates after four semesters through a leadership research project or leadership portfolio review.
Under the new cohort setup, each semester a new group of 20-25 students will start their WebsterLEADS process together and work collaboratively to foster growth in their leadership talents.
"I am really enjoying the new cohort format of WebsterLEADS. It allows me to meet and have class with people that I will be with for the next two years, giving a feeling of community and comfort," said sophomore Torie Grassi. "We will all be working on the program at the same time allowing us to stay on track and help each other throughout the process. The cohort also gives the opportunity to connect and become friends with some really great future leaders."
To learn more about the WebsterLEADS program, please email lead@webster.edu.
Spring 2017 Cohort Members
The Spring 2017 WebsterLEADS cohort includes:
Michael Baldridge

Olivia Bosaw

Nick Faga

Katie Fields

Torie Grassi

Jordan Hinchman

Kasey Howard

Mallory Ingles

Hunter Johnson

Khaila Jones

Emmanuel Jones-Harris

DeShawn Loggins Condra

Miles Minnaar

Emmi Murphy

Olivia Potter

Lexie Salamone

Kathleen Schmidt

Safal Thapa

Alex Trask