WebsterLearns Powered by LinkedIn Learning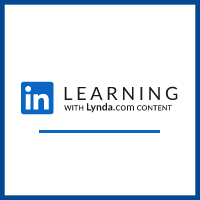 The self-guided learning tools previously offered to Webster University community members via Lynda.com are now part of the newly launched WebsterLearns powered by LinkedIn Learning.
Webster University students, faculty and staff will soon have access to LinkedIn Learning, an on-demand learning solution designed to help you gain new skills and advance your career. LinkedIn Learning will replace our current Lynda.com tool.
Users will receive an activation email shortly. When that email arrives, log in to your LinkedIn.com account for a customized learning experience that features instructional content relevant to your professional interests and goals.
LinkedIn Learning Includes:
Unlimited access. More than 5,000 video tutorials on business, creative and technology topics.
Personalized recommendations. Explore the most in-demand skills based on your experience.
Expert instructors. Learn from industry leaders, all in one place.
Convenient learning. Access courses on your schedule, from any desktop or mobile device.
Helpful resources. Reinforce new knowledge with quizzes, exercise files, and coding practice windows.
For additional up-to-date information and to provide feedback, visit the WebsterLearns page (login with your Webster Office 365 account).