Webster Sponsors Phi Theta Kappa Regional Convention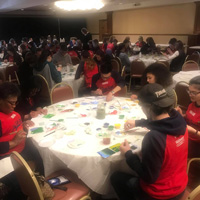 Webster University took part as a sponsor of the Phi Theta Kappa Missouri Regional Convention in Branson, Missouri, March 8 and 9.
Transfer Admissions Representatives Stacey Tunnicliff and Damian Whitney were present at the sponsorship table, general sessions, and college fair throughout the Convention to support the Phi Theta Kappa Honor Society and to promote the University to prospective students.
As a Five-Star Annual sponsor, Webster University was featured on the t-shirt given to all Convention participants, modeled here in a Facebook promotional video by outgoing PTK Missouri Region President Sarah Rife.
In April, Admissions Coordinator, Joan Finder, and Associate Director of Transfer Admissions, Chrissy Gilbert, will travel to Orlando, Florida as Webster sponsors the Phi Theta Kappa Catalyst International Convention. Approximately 6,000 community college students and advisors from across the United States and the world will come together to celebrate Phi Theta Kappa at this Convention.
About Phi Theta Kappa
Phi Theta Kappa is the world's largest and most prestigious honor society for two-year college students. It was first established at Stephens College in Missouri in 1910 as Kappa Phi Omicron. In 1918, the society was renamed Phi Theta Kappa and became nationally organized.