Contest-Winning Seal Design Unveiled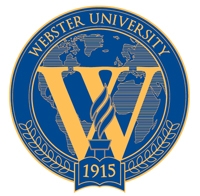 Webster University has announced a new official seal, selected through a contest as part of events to commemorate its 100th Commencement and 100th graduating class. The winning design was submitted by Sarah Lafser '15, a graduate of the Webster University School of Communications with a BA in Animation.
Submissions were solicited this spring from throughout Webster's worldwide network, and designs were received from current students, alumni, full-time and adjunct faculty members. The 100th Commencement Committee reviewed design submissions and recommended finalists to the Webster University Board of Trustees, which selected Lafser's design. The seal will be deployed starting with the 2019-20 academic year and the 101st graduating class.
"Webster has had such a huge impact on my life that goes beyond a degree, so I was excited to get the chance to help redesign the seal," Lafser said. "Webster's emphasis on having a global community stood out to me throughout my time on campus. I feel that every single one of my courses incorporated perspectives from around the world - whether it was showing artwork from other countries, discussing world news, or sharing the classroom with students from all sorts of different backgrounds. Having campuses in many other countries also helped reinforce that view and makes us all feel connected."
It was that experience that helped inform Lafser's design for a seal to represent Webster's values.
"Due to that global commitment, I incorporated the globe into the seal design," she said. "I kept a few elements from the older seal, as I feel it's always important to remember our history and where we came from." With that in mind, her design includes a torch and book just as the previous seal, which was last redesigned in 1996.
"I also modernized the seal by adding the 'W' associated with Webster and its logo," she said. "The 'W' stretches across the globe, representing the international campuses. I included the laurels both as a reminder for growth and to represent achievement."
Lafser shares an academic background in common with many Webster students, including 2019 Commencement's Words of Inspiration speaker Fayeshun Brown: Before graduating summa cum laude from Webster, she transferred to Webster from a community college. In Lafser's case, she enrolled at Webster after completing her AAS in Graphic Communications at St. Louis Community College - Meramec and receiving an academic scholarship for transfer students at Webster.
Today she works at a different community college, Jefferson College, as a graphic designer in Jefferson's PR & Marketing Department.
"School has always been an important part of my life and I've always enjoyed that environment, so I'm very happy to be working at a campus and contributing to it."
She also continues to do freelance graphic design work for Genius Games and Grey Fox Games, which are local St. Louis companies that design board games. Genius Games is owned by Webster adjunct faculty member John Coveyou. "Genius Games has played a huge role in my professional career," she said. "Roughly a year or so after I graduated from Webster, I was browsing the internal job board available to students/alumni and found a posting that Genius Games was looking for a graphic design intern. I have a huge interest in games, so I applied and was able to get the internship for the summer. I continue to do graphic design work for them to this day."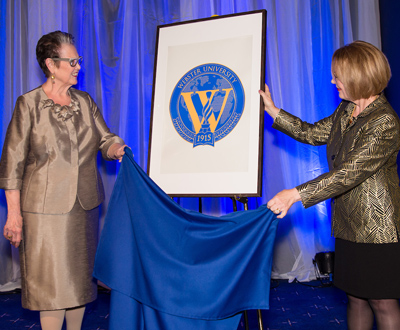 The resulting connections and additions to her portfolio connected her to work for Grey Fox Games as well.
Lafser also cited the influence of Chris Sagovac, associate professor and facilitator of the Animation program, for providing leads to students and recent graduates.
"It's a great way to stay connected with Webster folks and demonstrates that education doesn't end after you earn a degree," she said. "Being involved in the game design and development community, I often run into Webster alumni and students who are associated with the Game Design program. I've made connections with so many Webster people that I had not met during my time as a student. They're everywhere! Everyone that I've met has been incredibly motivated and talented - I've collaborated with a handful of them on various projects since graduating."
Lafser was introduced and congratulated as part of the annual Commencement Dinner program on Friday, May 10, where her design was unveiled for the first time.