Launch of 'Webster Speaks' Part of Several Initiatives on Race, Equity and Inclusion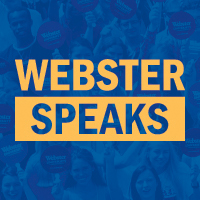 As part of on-going efforts to underscore its commitment to social justice issues, this summer Webster University is launching a virtual speaker series, "Webster Speaks: Dialogues on Race, Equity and Inclusion." The series will be presented every other week beginning 7 p.m. CDT Wednesday, July 8, and will feature live interviews with thought leaders from within Webster and the wider community.
Topics will include the impact of the Black Lives Matter movement, inequity in education, policing, redlining and political inequity, and the many social and health issues surrounding systemic racism.
The sessions will be conducted online and are open to the public. Audience members are invited to submit questions in advance or during the event using the #WebsterSpeaks hashgtag on Twitter. Episodes also will be posted to the Webster website and on social media channels.
Register for July 8 with Donald M. Suggs
The first episode at 7 p.m. CDT July 8, "What is the Meaning of Freedom Right Now?", follows the July 4th Independence Day holiday in the United States. Webster Chief Diversity Officer Vincent C. Flewellen will interview Dr. Donald M. Suggs, publisher and executive editor of The St. Louis American, Missouri's largest weekly newspaper and a leading voice of the region's African American community since 1928.
Register for the July 8 event here.
Save the Date: July 22
The next event is planned for Wednesday, July 22 with Michael McMillan, president of the Urban League of Metropolitan St. Louis, and Ella Jones, who was recently elected the first Black and first female mayor of Ferguson, Missouri.
On-Going Initiatives
Diversity, equity, and inclusion are foundational values for Webster University, and reaching underserved populations has been part of its mission since its founding in 1915. Engaging the community and partners on issues of racial equity and social justice are part of the University's efforts to be a catalyst for positive change in efforts to end systemic racism, inequity, and injustice.
The killing of George Floyd in spring 2020, followed by worldwide protests, only underlined the urgency to further engage our communities, both within Webster and with our neighbors, on the issues of racial equity and justice, to reflect on and take actions to advance Webster's mission, vision, and core values. We will share updates on recent efforts in the spaces below.
Registration and links to view each edition of Webster Speaks: Dialogues on Race, Equity and Inclusion will be shared at webster.edu, on events.webster.edu and on Webster's social media channels.