Webster Students in Practice Pursuit with Erste Group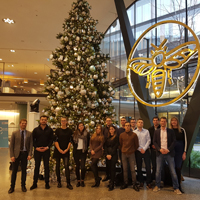 In December 2019, students from Webster Vienna's Business & Management department charted their path by becoming 'strategy consultants' for a day. This is the second year that Webster Vienna Private University has cooperated with Erste Group, providing Webster Vienna students with real-life business and management experience spearheaded by Dr. Pernille Eskerod, professor and senior researcher in Webster Vienna's Business & Management department.
Guided by Peter Weber (Senior Strategist) and Armin Blassnig (Head of Strategic Initiatives & Performance Management) from Erste Group Bank, the students had the opportunity to analyze and present strategic managerial and to make financial recommendations. Students were tasked with real-life case assignments and challenged to provide accurate analysis of their findings and recommendations.
"This exercise gave us a unique opportunity to showcase our understanding of strategic management concepts as tools driving decision-making in a multinational company. To witness the real-life application was refreshing. The intersection of theory and practice is something that I would encourage all students to seek out," considered Ivan Struk, a student of Managerial Policies and Strategies.
Webster Vienna thanks Peter Weber and Armin Blassnig at Erste Group Bank for this great opportunity for our students and we anticipate more fruitful cooperation in future semesters.
***