Citizen Science: Join Frog Call STL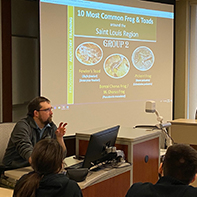 You don't need to be an expert or even a biologist to be a citizen scientist! These ongoing projects have regular trainings online and by webinar at the links below, where you can see photos, watch videos, and hear vocalizations to identify the species. Anyone can join to learn about these amazing amphibians and contribute to the project by uploading images or short audio recordings.
The COVID-19 crisis is upon us. With social distancing and quarantine, many of us are at home on our computers, or perhaps out in the wilderness, isolated from our peers or mentors. Citizen science abounds in St. Louis, and anyone at Webster University can still participate, even during this tumultuous time.
On Feb. 25, adjunct professor Michael Dawson of the Saint Louis Zoo led a training session for students in the biological sciences who are interested in a new project, Frog Call STL which records frog and toad vocalizations throughout the St. Louis Metro region in order to identify the presence or absence of different species, and will create an auditory library for citizen-training purposes.

As the Conservation Education Liaison for the St. Louis Zoo, Dawson already manages the FrogWatch USA St. Louis chapter, that tracks the phenology and presence of the different frog and toad species throughout the saint Louis metro area with use of auditory monitoring of registered sites
Gorloks can join these projects independently now, and when we reunite on campus in future semesters, join us in the Department of Biological Sciences as a part of this group project.
For more information, please contact the chapter's faculty adviser, Victoria Brown-Kennerly, vbrownkennerly64@webster.edu, or Michael Dawson, michaeldawson21@webster.edu.