'Synecdoche' Opens at Arcade with Reception March 10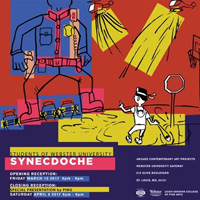 Webster University Arcade Contemporary Arts Projects will host an opening reception for the exhibition of "Synecdoche" on Friday, March 10, at 6 p.m in the Arcade Building at Webster's Gateway Campus.
This event is free and open to the public.
"Synecdoche" is a catalyst working conceptually to inform the work featured in this group show. This exhibition seeks to investigate the mirage of identity and representation through this figure of speech.
Participating artists include the following students in the Webster University Leigh Gerdine College of Fine Arts:
Sevrin Amselfüst
Alexa Clavijo
Vaughn Davis
Hannah Gibbons
Sajeda Issa
Chelsea McDaniel
Mia Mendoza
Myra Nelson
Davide Pulphus
Aleida Ruelas Hertel
Tayler Tate
Krista Valdez

Quinton Ward