WebsterVOTES: Notaries Needed for Absentee and Mail-in Ballots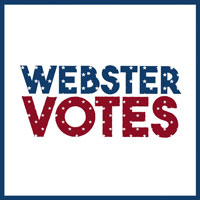 Are you a Notary? WebsterVOTES wants to know!
If you are a notary in the state of Missouri we need your help in providing notary services for Absentee and Mail-in Ballots this election season. The St. Louis County Board of Elections anticipates a much higher rate of Absentee and Mail-in ballots submission.
Ballots will begin being distributed Sept. 22 and are due to their local Board of Elections by 7 p.m. on Election Day.
Send in Information
Name and Title/Department
Webster Email Address
What days of the week and times are you available for notary appointments?
Send all Information to webstervotes@Webster.edu.
This information will be provided to Webster University students, faculty and staff who inquire with our program about notary services on campus. A listing with contact information will be provided on the WebsterVOTES website.