Webster Welcomes Spelman College to WINS Program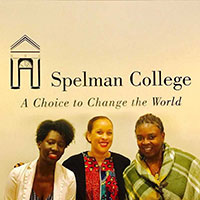 A leading liberal arts institution and one of the nation's oldest historically Black college and universities (HBCUs) - Spelman College in Atlanta, Georgia, is the newest addition to the WINS program. Founded in 1881 as the Atlanta Baptist Female Seminary, Spelman College continues its excellent history of inspiring women to change the world.
Spelman is among the most selective women's college in the nation. The college has been recognized among the top 100 national liberal arts colleges, and for the tenth straight year, is the top historically Black college and university in the country, according to the 2017 U.S. News & World Report "Best Colleges" rankings.
As a Spelman alumna, Christa Sanders, Webster Ghana director, recently visited her alma mater and initiated interest in the WINS program. Spelman's Associate Provost for Global Education and professor of International Studies, Dimeji R. Togunde, was pleased to sign the agreement and looks forward to sending Spelman students across the Webster campus network.
Currently sending students to more than 40 countries including Africa, Asia, the Caribbean, Europe and Latin America; Spelman is a recognized leader in Study Abroad. In 2018, Spelman received the Excellence in Diversity & Inclusion in International Education (EDIIE) Award; and also received the 2017 Senator Paul Simon Spotlight Award. Sanders and WINS director Kim McGrath will visit Spelman and other universities this Spring semester, to continue building this new partnership and to begin promoting WINS programs to students, staff and faculty.
About WINS
The WINS program, established more than 15 years ago, creates partnerships between Webster University and U.S. universities to provide access to Webster's international campuses on four continents. The program allows full-time, degree-seeking students of affiliated U.S. universities to study abroad at one of Webster's international campus locations and allows for collaborative program development amongst partner institutions.
For more information visit webster.edu/wins or contact Kim McGrath, WINS director.