Join the Destination: WELLNESS Five-Week Challenge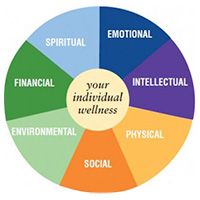 Take a holistic approach to wellness through Destination: WELLNESS March 22- April 26.
Destination: WELLNESS is a 5-week challenge open to all students, staff and faculty at all campus locations. Focus on your health and wellness from the inside out, based on your personal goal(s) that you set in one or more of the following elements of the Wellness Wheel: spiritual, emotional, intellectual, physical, social, environmental, financial.
Register online:
Online registration is available at http://bit.ly/2mB6NAJ.
Registration will be accepted through March.
To get an increase chance of winning our grand prize, pre-register before the kickoff meeting March 22.
Extended Sites:
Weekly meetings are available on WebEx. Go to websteru.webex.com, click on "Meeting Center" and search for wellness (use password wellness.) This will permit live access to all our events during Destination: WELLNESS.
Wellness Wednesdays
Make wellness fun and holistic by participating in planned events such as yoga, interactive games, financial seminars, etc. during our weekly Wellness Wednesday events. All events will be held at noon on the following dates and locations:
Week 1: Kick-Off Wednesday, March 22, University Center Presentation Room
Week 2: Wednesday, March 29, Sunnen Lounge
Week 3: Wednesday, April 5, Sunnen Lounge
Week 4: Wednesday, April 12, Sunnen Lounge
Week 5: Wednesday, April 19, University Center Presentation Room
Final Celebration: Friday, April 28, Library Conference Room
Wellness "bling" will be given all participants, with several opportunities to increase chances to win a grand prize throughout the 5-week challenge.
Look for weekly emails to keep you motivated and on track!
Questions? Contact wellness@webster.edu