Destination Wellness March 3-31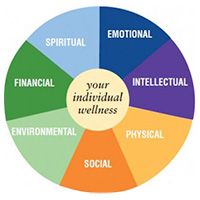 Celebrate wellness this month with our 2020 Destination Wellness events!
This initiative is open to all students, faculty and staff at all U.S. campuses. There are many paths for the same destination. Take a break to relax, meditate and stretch, go on a walkabout with a champion, learn to manage your finances or enjoy a refreshing massage. Take time to reconnect with your wellness journey and get back your health focus.
Visit the Destination Wellness page for detailed information on 2020 Wellness Events at webster.edu/wellness.
Contact wellness@webster.edu with questions about Destination Wellness events.
Event Schedule
Tuesday, March 3
Fitness and Movement Check-up, Sunnen Lounge, noon
Tuesday, March 10
Professional Development Day: Managing Personal Finances, 1:45-2:45 p.m., East Academic Building 137 and Webnet Room: WEBINAR, led by Compsych
Professional Development Day: Break Out Sessions, Desk Stretches/Yoga, 3:20-4:20 p.m., East Academic Building 136, led by Luva Chiropractic
Various sessions for Webster Staff Alliance's Professional Development Day will be held at several locations, including Browning Hall, East Academic Building and Webinar. View the full schedule.
Tuesday, March 17
Champion Walk with Chancellor Stroble, noon, meet outside of Loretto Hall on Marletto's patio/deck
Friday, March 20
Free Yoga, noon-1 p.m., Library 1st Floor Conference Room, bring towel and yoga mat
Monday, March 23
2nd Annual Faculty vs Staff Kickball Game, 5-7 p.m., Grant Gym, register via email at wsa@webster.edu
Tuesday, March 24
Earn Rewards with Your Benefits! Bike Blender, 11:30-1:30 p.m., University Center Sunnen Lounge
Tuesday, March 31
Free Chair Massages by Bacl to Work STL, 11 a.m.-2 p.m.

; p

lease sign up for a slot by contacting Greg@backtoworkstl.com and indicate which location you prefer: Loretto Hall, University Center, East Academic Building, Browning Hall or Sverdrup.