Webster Wellness Earns UHC Well Deserved Award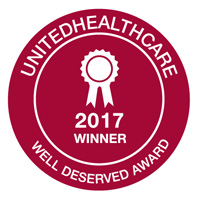 Webster University has been selected as one of 10 national recipients of the UnitedHealthcare Well Deserved Award, a program that recognizes organizations that demonstrate a commitment to worksite wellness.
Winners of the Well Deserved Award show the highest level of commitment to worksite wellness while leveraging wellness programs, tools and resources from UnitedHealthcare.
"Well Deserved award winners successfully established a culture of well-being by implementing worksite wellness programs to help lower costs and improve employee health and engagement," said Ann Marie O'Brien, RN, UnitedHealthcare's national director of health strategies. "An increasing number of companies recognize that valued well-being programs help employee health, satisfaction and productivity, and differentiate themselves as employers from other organizations."
Criteria for the Well Deserved Award was based upon:
Senior level support and involvement
Dedicated wellness coordinator and committee
Identification of employee health needs
Collaboration with health insurance carrier
Innovative program design and incentives
Strategic wellness plan
Measurement and evaluation
Ten award recipients were selected by a panel of health promotion experts assembled by UnitedHealthcare. Each will receive a trophy, a $1,000 cash award, and will be promoted in local media opportunities and highlighted in UnitedHealthcare employer and broker newsletters and publications.