Save the Date: WWW 24 Oct. 3; Submit new agency names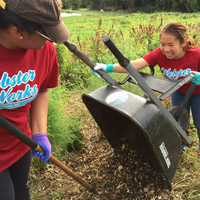 Webster Works Worldwide (WWW) will celebrate its 24th year of providing community service on Wednesday, Oct. 3, 2018. Since the event began at Webster University in 1995, more than 35,000 volunteers have given more 147,000 hours of service worldwide!
Please take this opportunity to mark your calendar for WWW 24. For those in Webster Groves, save the date for the Webster Works Worldwide opening event, "A Send Off to Fuel your Mind, Body and Spirit" on Wednesday, Oct. 3, at 8 a.m. in Grant Gym.
Webster Groves Participants: Have a New Agency?
This month, informational packets will go out about WWW to more than 250 nonprofit organizations in the St. Louis area, inviting them to submit a project for Oct. 3.
We know that many of you are involved with various nonprofit agencies throughout the year and we would like to include them as well. Please note that all organizations that participated last year are already on the list to be invited again this year.
If you want to make sure a particular agency is invited to participate, please send the following information to websterworks@webster.edu:
Organization's Name -
Contact Person -
Mailing Address -
E-mail Address -
Phone Number -
Extended campus employees should contact their director to find out how to get involved with WWW at their campus.
Thank you for supporting this very important Webster tradition!