T-Shirts for Webster Works Worldwide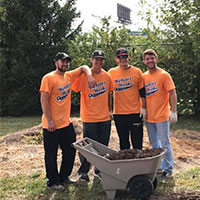 Webster Works Worldwide (WWW) annual global community service day was a success, thanks to those who volunteered, including those who stayed in the office so others in in their area could go out and volunteer. Since the start of WWW in 1995, over 32,000 volunteers have given more than 141,000 hours of service.
Extra T-Shirts for Those in the Office
There are a small number of WWW t-shirts available for those who stayed in the office, while supplies last. Stop by Loretto Hall, outside of room 361, on Friday, Oct.6, from 9:00 a.m - 11 a.m. and Monday, Oct. 9, from 8:30 a.m. -1 p.m., to get a t-shirt.