Marianne and Peter Gleich Honored at Annual Webster Society Dinner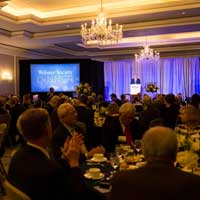 ST. LOUIS - Marianne and Peter Gleich, longtime supporters and friends of Webster University, were presented with the Visionary Award during the Webster Society Dinner, held Nov. 12 at the Ritz-Carlton in St. Louis. The annual dinner honors the members of the Webster Society, which includes donors who give $1,500 or more each year.
"We look for ways to celebrate the generosity of our donors and share stories about the impact they have on our students and the community. These events really help everyone involved understand the importance of their giving," said Associate Vice President of Development Andrea Soto.
The Visionary Award was established to recognize the unwavering commitment of individuals and organizations who have been indispensable in helping advance the institutional mission of Webster University. The Visionary Award is presented to a donor or family who has been significantly impactful for that year.
Gleich graduated from Webster in 1966, then taught French at Lindbergh High School for 20 years. Soto highlighted why she was deserving of the award: "She started donating at an entry level amount. When you're a university graduate, you don't have a whole lot of money to give away just yet, but she was philanthropic since day one. She always believed in the mission here and is just very worthy of being recognized at the dinner."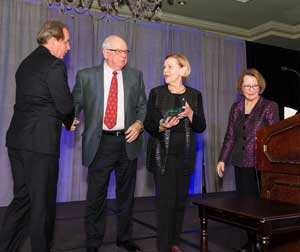 The Gleichs are passionate about International Business and French studies, have traveled extensively, and understand how important it is for people to interact with other communities and cultures different from their own. For this reason, the Gleichs established endowed scholarships at Webster for the French, International Business, and Study Abroad programs. According to Soto, the Gleichs have provided scholarships to 55 students over the years.
Besides the awards, attendees at the dinner heard from Chancellor Elizabeth (Beth) J. Stroble, President Julian Schuster and Chairman of the Board Rob Reeg about the impact the University and donors have on students and the communities in which the students live.
The dinner also featured live music, hand-picked by Webster University's Department of Music. "This year, a Jazz Studies combo provided a nice atmosphere during the reception while everyone mingled," Soto said. "And Abby Benson, a soprano senior vocal performance major, performed three beautiful pieces, while Marc Pannullo, a senior majoring in Music Direction for Musical Theatre, accompanied her on piano during the dinner."
All Webster Society members are listed in the program as recognition of their giving. Also listed in the program were corporations and foundations, which were organizations that made gifts of $1,500 or more during the 2018—2019 fiscal year; 1915 Society Donors, which recognized donors who have made cumulative gifts and commitments of $25,000 or more during all their years of giving; and Legacy Society donors, recognizing those who have included Webster University in their estate plans.
"We also incorporated stories about the students," Soto said. "One of the best stories this year was that of Alicia Wolf, who was the very first Gleich Scholarship recipient. She lives in Paris now, and the Gleichs have visited her during their travels to France. She is a bilingual film and TV actress and works as a voice over artist as well. Alicia is a great example of how donors like the Gleichs have been a part of a Webster University student's journey to success."
Soto continued, "It's a special evening set aside for our most generous and impactful donors, who tell us they also truly enjoy the opportunity to celebrate together. The team looks forward to it every year, and we're already putting ideas in motion for next year."