'Webster Speaks' Goes International: U.S. Embassy in South Africa to feature session on how media cover race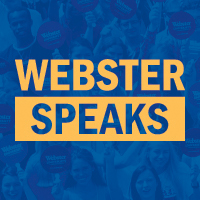 ST. LOUIS - Webster's livestream speaker series, "Webster Speaks: Dialogues on RACE, EQUITY and INCLUSION," has been tackling these subjects since its first episode was broadcast on July 8, and it has attracted many viewers from across the United States.
Now it has gone global.
The U.S. Embassy in South Africa is using one of the Webster Speaks episodes for a "lunch and learn" session with journalists in South Africa to discuss how race is covered in the media.
"It is validating to know that Webster Speaks is doing what Webster University has done for a long time, facilitate courageous conversations about issues of race, equity and inclusion," said Webster University Chief Diversity Officer Vincent C. Flewellen, who also acts as the host of Webster Speaks. "We continue to find ways to engage people in these conversations by listening to some of the leading thought-leaders discuss issues that impact the daily lives of Blacks and then for the community to reflect on what they heard and learned and think of ways to personally affect change."
The Webster Speaks series came to the attention of the U.S. Embassy in South Africa because the FBI Legal Attache' is a Webster alumna. Jennifer Dent watched the Webster Speaks episode "Lessons from Ferguson" and shortly afterward contacted Flewellen and requested the link to the video. "I believe it would be very well received by members of the Embassy community and my South African Police colleagues," she said in her email.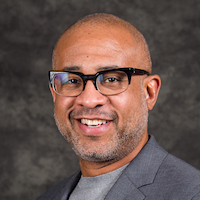 Not two weeks after receiving the link and sharing it with her coworkers, she sent another email to Flewellen. "We are in the initial stages of developing an Embassy event around the Webster University 'How the Media Covers Race' Webinar on August 19," she said. "We want to invite people at the US Embassy to watch the Webinar and then have a 'Lunch and Learn' session to discuss the Webinar that would include South African journalists."
Flewellen said, "It was thrilling to know that Webster Speaks is being used to help inform members of the U.S. Embassy, thanks to our alum, Jennifer Dent. It is the second episode she has shared with her colleagues there but the first in which they are dedicating time to watch and process. The fact that they are including a South African media professional to discuss how South African media cover race speaks to the fact that issues of race and racism are global concerns."
The Zoom meeting "Lunch and Learn" is set to take place on Sept. 3 from 12:30-1:30 p.m. South Africa Standard Time. Recordings of all of the Webster Speaks episodes are currently available for viewing.
The next episode of Webster Speaks is scheduled for 7 p.m. Sept. 2. It will feature Olympic medalist Jackie Joyner-Kersee in a discussion about "Black Athletes: Powerful Voices." Visit www.webster.edu/WebsterSpeaks for more information and to register for this free virtual speakers series.